'Strong policies and processes make you better at your work' said Mr Ashutosh Varshney, Canon India's Head – Inventory Supply Chain & Logistics who shared Canon India's supply chain landscape, its formula for agility and its alignment with the company's corporate philosophy with us.
Canon India, the printing and imaging products major, clocked total sales of Rs 2,600 crore ($362 million) in 2017 and is eyeing Rs 3,500 crore (USD 485 million) annual sales by FY2020 as per a recent Economic Times report. The printing and the imaging devices market has gone through rapid changes since the 1990s in terms of technology and selling strategy. The company, which has completed 21 years in India, has emerged as a leader in the segment, thanks in a large part to its agile supply chain.
We were fortunate to have had an interaction with Canon India's Head – Inventory Supply Chain & Logistics, Mr Ashutosh Varshney where he shared with us Canon India's supply chain landscape, its formula for agility and its alignment with the company's corporate philosophy. Edited excerpts.
Can you please share with us a view of the supply chain landscape that you manage, and the volume of the finished goods and moving part that you handle?
You must be knowing that Canon India is now a 21 year-old company. Last year we celebrated our 20th year. And in these 21 years, we have also been growing in terms of our product portfolio. For instance, when we started our operations in India back in 1996-97, people across India were using Canon for taking photocopies. Then of course the technology changed – these standalone copiers evolved into multi-function devices, where you can do things like taking copy, print, and also send facsimiles because back in the day people used to send a lot of faxes. It emerged as the right product for the office automation industry. And then soon we expanded from office equipment segment (B2B) into the direct consumer segment. We launched printers for all the different segments – home and SOHO (Small Office Home Office) laser printers and inkjet printers.
We entered the camera business [in India] the year 2004-05. We started with digital cameras and then entered into the video camera, the camcorders, SLR, DSLR segments and now we have moved into the movie cameras segment globally – our movie cameras are used in India as well as the Hollywood film industry.  I was very happy to note that a lot of TV serials in India are actually shot on Canon EOS. Hence, there has been a big transformation on the product side. From being known as a photocopy company, Canon has come to be known as a digital imaging company – we make everything and anything which connects to imaging and printing.
Speaking of supply-chain, we serve a customer base whose needs range from specific photographic needs to huge printing requirements, for example, for tenders and quotations.  Today, we cater to customers across India; we supply from various supply stocking locations. We supply directly to corporates where big machines are required or we supply through distributors and dealers where printers are required. Even the government is a big buyer for Canon. Right now a lot of work [on Canon products] within the government sector is going on thanks to the digitization [drive] for the realization of Digital India. Another important customer segment is end-consumers, whom we serve through brand stores, called Canon Image Squares (CIS).
Can you give us an idea about the number of SKUs?
We handle as of now around 5,000 active SKUs on the product side – from B2B to B2C, printers to cameras – and almost around 25,000 active SKUs on the after-sales services side.
I have seen that Canon's EOS and the Mark range of cameras changed the game for movie makers and You-Tubers with very reasonably priced cameras that deliver pro-level quality. Therefore congratulations and thank you on behalf of the new-age moviemakers. Coming back to the subject of supply chain, can you share with us an overview of Canon India's channel distribution and dealership?
A few years ago, Canon Global acquired a big European printing Company called 'Océ'.
Océ are the world leaders in producing printers used for heavy duty and large-scale printing. As you know millions of customers receive bills every month for utility services like electricity, water and telecom. Such bills are printed on large machines such as the ones manufactured by Océ, which is now a Canon company. Therefore, on the B2B side, we have large printing machines for organization big and small – we also have printers for billboards as well as for CAD/CAM printing used by architects and engineers.
Our channels cater to the consumer side – we have almost 550 direct channel partners to whom we sell directly. And then they sell either to customers or they pass on the products to another layer of channels, whom we call secondary channel partners whose numbers can be as high as 4,000 to 6,000, selling cameras and printers – if I need a cartridge then I may go to a shop and buy Canon cartridge.
Our products are also sold through the online channel. Especially during the festival time, when you log on to an E-commerce site, you will have our products coming up first. We have a very good share of cameras being sold through the online channels.  Another channel for our consumer products is our own brand store; we call them the Canon Image Square (CIS). We have 200-plus brand stores in India as of now, with a very promising rate of increase on those numbers. CIS stores are basically the places where you can use the products, play with it, experience the product to buy one. In summary, we have the traditional channel, omni-channel as well our own brand stores. And, the strength for us is that we are actually doing equally well across all the channels.
The fulfilment requirements for these types of channels would all be different? Online has a long tail whereas offline does not. So how do you manage the variance?
That's where the demand forecasting comes into the picture. We have a very robust system of doing this sort of work through the various electronic interfaces where we connect with all the partners. We are also looking at capturing which particular unit got sold from which shelf at what time and date; what is the movement of, say, LSR at the retail chains including its movement from a primary distributor to a secondary distributor and then to the customer. And we can see all of that online. That's how we are able to see the trend on different channels and therefore plan the upcoming business based on the demand forecast-into-the-sales cycle.
What are the ways to improve accuracy in demand forecasting in terms of integrating it with the suppliers and retailers?
I can say that our marketing and sales teams coordinate very well with supply chain because our demand-forecast accuracy remains fairly high – to the tune of plus or minus 3-5 percent on an average. We have a very strong, robust and visible system to see of what would get sold, what is getting more demand, which models are moving where. We also have a very strong integrated information system through all our supply chain, factory channels, our sales and the distributor. We are well connected through the online system. And that's why supply chain is the backbone of the operations of the company as it ensures that the product is delivered at the right time, at the right place to the right customer.
Canon has made a seamless transition into digital imaging and emerged as a one of the leaders in the segment. How has your supply chain been able to keep pace with the transition?
In supply chain, we all have to evolve to stay on top of the changing market needs. We are quite happy and satisfied with our partnership with the top logistics companies which have also partnered with us in India – they have the bandwidth to ensure that the evolving expectations of the customers are met in a very short duration of time.
Can you share the names of your logistics partners?
We work with FedEx and Blue Dart, now a DHL company. I'm happy to say that our distributors, dealers and the customers all appreciate the supply chain backbone of Canon terming it as the strongest, most robust and reliable supply chain they work with.
To what factors do you credit these attributes?
We credit this to our large family of service providers who understand our requirements and our customers; they integrate very well into the whole ecosystem, which brings me to the Japanese term which we keep talking about: 'Kyosei' – a corporate philosophy which means working and living together for a common good. We try to align everyone into the direction of living our philosophy.
If you could share a few examples of how you incorporate the philosophy across the supply chain of living and working together for the common good.
We always connect with them at all levels and all places. Whatever we do in Mumbai is what we do in Bengaluru, Chennai, Kolkata or in Delhi or Gurugram. We go down to the level of meeting the workers at the warehouse and spending time with them. We appreciate each person at whichever level they are working; It's much more than business relationship. We also work actively on the CSR front, to see how we can connect better with our service provider and also work for the society together. When we speak in such terms, our partners don't see themselves as a box-mover for Canon, they see themselves as part of a group working together to achieve our stated goals. Our CEO ensures that he meets the service provider's management at a regular frequency. They don't talk about how may boxes we have moved, but how can we synergize better, how we can increase the satisfaction levels of our customers.
There are a lot of things we are doing in CSR and the pace at which we are doing this is high. And they are all connecting to our philosophy of 'Kyosei' and connecting to our strengths on imaging, connecting with our tagline of delighting you always.
Let's talk about your role and experience at Canon India. From your profile, I was pleasantly surprised to note the number of awards you have received over the years such as the one for the best team, and your team has also recorded a near zero-attrition rate as well as the highest employee satisfaction scores. Could you share the facts and secrets of how you manage the team so well? 
I don't think that there's any secret formula. I would attribute it to the company name, and the quality of products that we deal with. If you have a product which you are confident about, then you can talk about the strengths of the product. And when you integrate that with a very strong, robust policy and processes, then you become better at your work. You have to be able to integrate people at every level. For example, we have a very open and transparent culture of communication. A person at any level can walk up to any person and state his or her need or concern. Our people feel connected and a part of decision making. A good product with a good process, with strong connectivity with people helps everyone grow faster and stronger.
What are the biggest challenges that beset India's supply chains?
Clearly, there are a lot of thing that needs to improve. I feel GST has brought in a lot of positive changes in terms of documentation, material movement and costs. Big companies are now trying to bring down their transit times by a day or two because of seamless transfer of goods from one place to another. E.g., Delhi-Bombay transit used to be 3-4 days in a truck, now they are reduced because of GST.
Overall, the mind-set of supply chain organizations is more oriented towards cost-cutting which brings down the quality of operations. Therefore, we really have to push the emphasis on quality through our service providers. India's [product] supply chains are expanding from tier 1 to tier 2, 3, 4, 5 cities.  Supplying with the same quality to the customer in those places could be challenging. The spread, density of India is much higher than any other country.
How can the focus be shifted from cost to quality?
Most of the companies in India who are into logistics services are now evolving from the old traditional way of doing logistics to a newer and much sophisticated tech-driven ways of doing logistics. For e.g., earlier it was difficult to find out where the shipments are, whether they are delivered or not delivered, their condition, etc. but today all that is changing. On one side the service providers are changing their systems and on the other, the government is doing all it can to improve the [goods] movement. When we compare with developed countries like Singapore or Japan we find ourselves lacking far behind on the warehousing standards, methods of handling product, equipments, and even product movement where it is very difficult to find trained drivers for the trucks.  That said, I am very optimistic about the progress and the future of logistics and supply chains in India.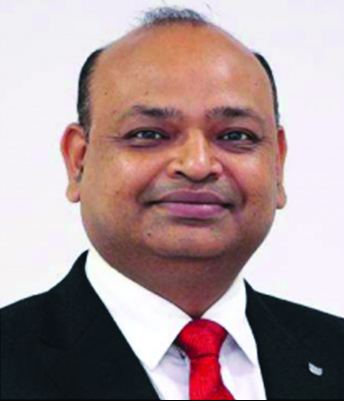 Executive Profile
Mr. Ashutosh Varshney leads from the front and ensures a total turn-around thereby hugely benefitting the company commercially as also from an image perspective.
Having close to three decades of experience in varied functions, Mr Varshney brings with him a great combination of strategy, planning and execution, with excellent people skills and leadership abilities. Prior to Canon, Mr Varshney was a Business Development Manager at Larsen & Toubro.
He holds a B.Tech degree from the Indian Institute of Technology, Roorkee. He lives by the mantra that one should be an integral part of the team be it a challenging time or rejoicing success.
Ashutosh Varshney, Head – Inventory Supply Chain & Logistics, Canon India