Launching innovative 3D printing applications in Casting Patterns, Jigs & Fixtures, Press Brake Tooling and Vacuum Forming at South Asia's Biggest Metal Forming Exhibition, IMTEX 2020, to be held in Bangalore in between 23rd to 28th January.
Today as we accelerate technology with science, there's one achievement that has seriously marked the dawn of a new industrial revolution. Yes, that is exactly what we are saying. A New Industrial Revolution, almost similar to the ones that lasted over a century, dating 1760 to  1840.
Today's world isn't just a pre-programmed machine running at codes set by universities and society. The world is now smart, creative and efficient in every possible aspects one can imagine. Moreover, mankind is super fast, not wanting to apply breaks at any point of time. So, being an attribute of such an entity, do you find your business and ideas adapting in this ever increasing competitive market? Not sure of the answer, right? You're definitely on the right track as the answer can never be yes.
Enough with the introduction, let's take a walk now and explore more about this new-age technology, which has its root ingrained in late 80's.
Additive Manufacturing. It has managed to turn the table and is now viewed by global industrialists and scientists in a whole different format. Its sheer engineering and cutting edge technological advancements in niche applications has attracted eyeballs across the world. That being said, did you know that additive manufacturing or if simply stated, 3D Printing has leaped thousands steps ahead to conventional subtractive manufacturing industry? An industry where almost all SMEs succumb to huge consumption of resources, mainly manpower and cash flow!
A brief overview on what is 3d printing! 
Three Dimensional or simply 3D printing is a technology based on an additive manufacturing process which transforms digital information into a physical reality. The puzzling question here is 'how?'. To begin with, the additive manufacturing industry works on a basic principle of creating physical objects by depositing successive layers of 3d printing materials in accordance with pre-designed 3D models. That being said, the manufactured product can eventually be considered as thinly sliced horizontal cross-section of the final object.
Divide By Zero's Vision 2030
We are a small and nimble team of highly energetic folks working towards a solution driven society. We believe the core of any problem always lies within itself. All that we want to do is identify each and every minute problem and address them in an efficient and timely fashion. That being said, we at Divide By Zero Technologies, the most promising startup of the year, believe in empowering million SMEs with application driven technology and eventually become their harbinger for happiness and prosperity.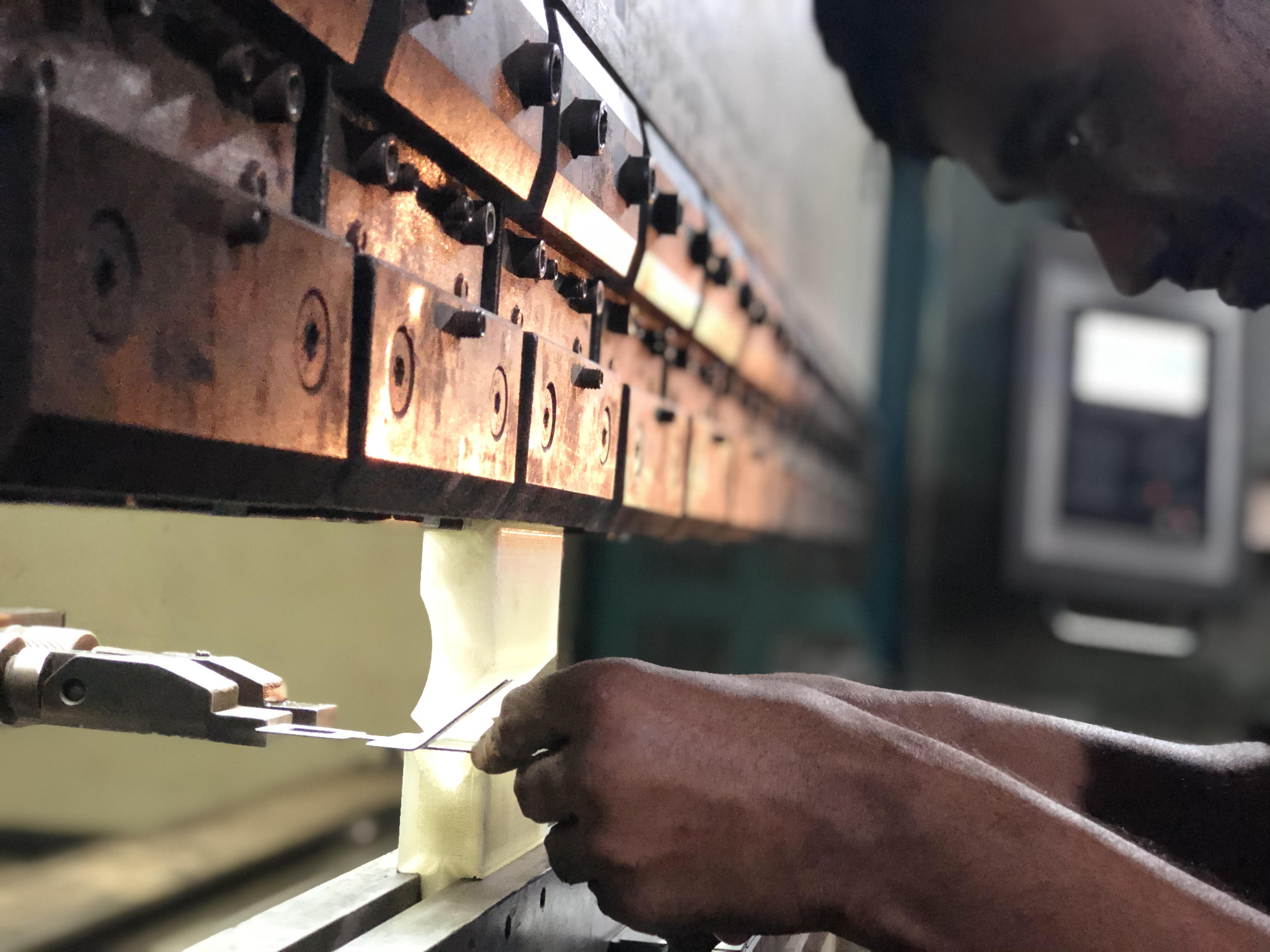 The Ideation
Last year at IMTEX 2019, South Asia's biggest metal forming exhibition, Divide By Zero Technologies introduced and launched the decade's most advanced and high performance industrial 3D printer, named AION500MK3. Things changed with the launch of Divide By Zero's patented Advanced Fusion Plastic Modeling (AFPM) technology. AFPM leverages our deep expertise in 3D printing, material engineering and software development to deliver a technology that resolves all concerns in terms of strength, form, fit, and functionality.
Well that was last year. This year @IMTEX 2020 with the onset of a new decade, we're bringing disruptive applications of our patented printers that will skyrocket your business in no time by saving millions. Now that you're super excited and curious to know further on the same, let's take you for a tour in this thrilling amusement park of 3D printing.
Applications
This year, Divide By Zero is elated to announce ground breaking applications of additive manufacturing in four major areas namely
Press Brake Tooling,
Jigs & Fixtures,
Vacuum Forming,
Casting
Key demonstrations of our patented 3D printers that will help you in business:
Let's say your sales team just received a new RFQ for large number of customized small quantity orders. The client sends you the design and you're left with non-standard tooling. What will you do? Metal tooling for a contract you might not receive? Let the order pass by and wait for large quantity orders? Obviously, it's a big loss, right? Simple answer – opt for in-house 3D printing. It will save you millions apart from saving time and manpower resources.
How about printing custom tools that perfectly matches your clients requirements instead of investing in manufacturing custom metal tooling that is obviously temporary and might mangle a perfectly working tool and strip it of its full potential?
You're running a food container business. One of your clients asked for immediate functional prototype to test and evaluate. What will you do? Outsource the deal keeping a commission, build a tooling for days or just let the order pass by? In-house Vacuum Forming is all you need to close these deals.
Let go of hindrances that you face in conventional metal casting industries such as Gas Porosity, Shrinkages, Run-Out, Swelling and Warping. 3D printed casts is your solution. Come and watch the magic unfolding.
Get your prototype parts printed in mere hours and save you millions even in low-volume orders.
We at Divide By Zero Technologies try to adapt ourselves with advancements in science and technology. That being said, we are coming with a brand new AFS system that solves 3D printing filament issues such as moisture absorption and active air ventilation. We call the system as Active Filadry System. This system helps 3D printers by increasing their lifespan.
We're excited to launch innovative 3D printing applications in Casting Patterns, Jigs & Fixtures, Press Brake Tooling and Vacuum Forming at South Asia's Biggest Metal Forming Exhibition, IMTEX 2020, to be held in Bangalore in between 23rd to 28th January.
Come and watch the magic unfolding at BIEC, Hall 2A, Booth E104.
Mr Swapnil Sansare |Profile
Designation – CEO , Founder
Company – Divide by Zero Technologies
The Founder of Divide By Zero Technologies, Swapnil Sansare has hands on experience of rapid technology nearly a decade ago because of immediate requirement of parent company.
His fascination towards this additive technology worked as magnet for him and the seed of the company related to 3D printing was sown in his subconscious. His realization of the infinite power of this technology, along with limitations like not being accessible and affordable for growing organizations in India fuelled his determination.
His years of hard work, research and wealth of experience in the development of engineering products and sustainable systems led to birth of first Accucraft 3D printer i.e Accucraft studio S150 with the build volume of 6 inches cube. The product was an instant hit, which boosted his confidence and gave a shape and formation to his dream company 'Divide By Zero Technologies' – Infinite power of creation.
Under his guidance, Divide By Zero Technologies launched India's 1st patented  AFPM technology in 2016 . As a twist on traditional FDM/FFF technology, this technology  delivers exceptional build speeds and strength at affordable rate. Which turned DBZ  into a globally recognized brand along with multiple awards at international platform for its strong commitment to excellence.
Today DBZ's repertoire includes 3 individual series of 3D printers, patented technologies, an expanding dealer network, a team of highly-skilled employees, multiple awards, international presence with more than 500+ corporate customers, and a sprawling new office & R&D centre in Mahape, Navi Mumbai, that enables newer innovations.
Linkedin Profile:  https://in.linkedin.com/in/swapnil-sansare-82963a32
Company website: http://www.divbyz.com