February 5, 2020, Bangalore, India – Spoton Logistics, the fastest-growing express logistics company in the country is delighted to have been awarded the Great Place to Work® certification, an internationally recognized standard that puts the spotlight on select workplaces that have a High-Trust, High-Performance Culture™ through a rigorous assessment and benchmarking system.
Spoton's decision to work towards Great Place to Work® accreditation demonstrates their commitment to create a supportive, challenging and fulfilling work climate for employees who are the backbone of Spoton's exemplary services.
Great Place to Work® certification is one of the most prestigious achievements for any organization across the globe. Spoton employees were audited by the Great Place to Work team, and the company was presented with their certification in mid-January 2020.
Abhik Mitra, Managing Director and CEO, Spoton Logistics said, "Gaining Great Place to Work® accreditation reinforces Spoton's relentless focus on ensuring a consistent leadership culture and the meaningful ways that all employees experience innovation in the workplace."
"Spoton employees are one of the strongest pillars supporting Spoton's success in delivering quality service. We are committed to creating a high trust work culture and maintaining a positive employee experience," said Jothi Menon, Director – HR & Service Quality, Spoton Logistics.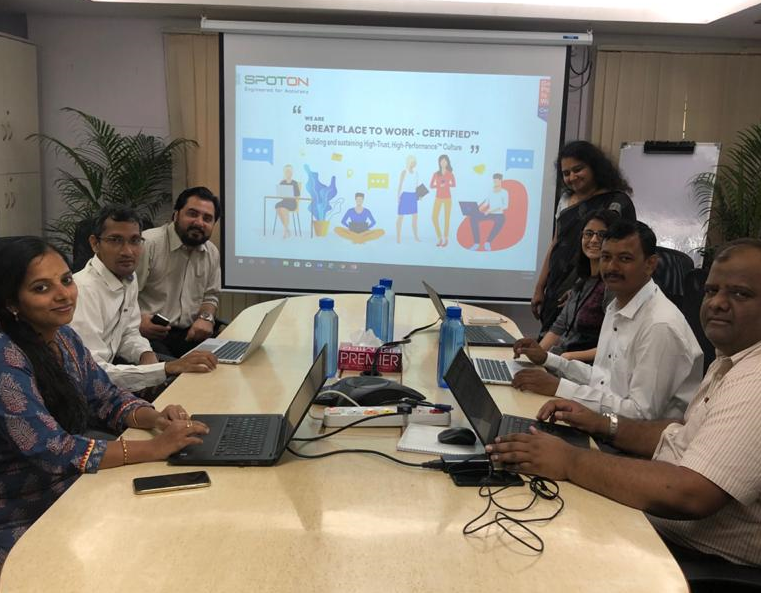 In FY 2018-19, Spoton Logistics achieved above industry average topline growth, in excess of 32% year-on-year, closing the year with overall revenue of Rupees 650 crore. The company recently launched "Air Express" cargo services, significantly reducing Turnaround Time (TAT) for multi-mode, timed deliveries to over 25,000 PIN code areas across India. The company caters to a wide cross-section of industry verticals notably Pharmaceuticals, E-Commerce, Electronics, Information Technology, Industrial & Manufacturing, and Apparel & Lifestyle. Sometime later this fiscal year (2020-21), Spoton plans to enter the lucrative 3PL market.
About Spoton Logistics
Spoton Logistics is the fastest-growing multi-mode express logistics player in India. Headquartered in Bangalore, the company fulfills express logistics, business to business, serving clients across Hi-Tech, Automotive, Engineering, Pharmaceuticals, Electronics, Electrical, Lifestyle and Retail industry segments aided by a technology engineered, and data-led network. For more information, please visit www.spoton.co.in.
About Great Place to Work®
Great Place to Work® Institute is the global authority on high-trust, high-performance workplace cultures. Through its certification programs, Great Place to Work recognizes outstanding workplace cultures and produces the annual Fortune "100 Best Companies to Work For®" and Great Place to Work Best Workplaces lists for Millennials, Women, Diversity, Small & Medium Companies, industries and, internationally, countries and regions. Through its culture consulting services, Great Place to Work helps clients create great workplaces that outpace peers on key business metrics like revenue growth, profitability, retention and stock performance.
Mr  ABHIK MITRA
Managing Director and CEO Spoton Logistics Pvt. Ltd.
Executive Biography
Abhik Mitra has over three decades of experience in leading organizations on exceptional growth and transformation.
In his current role, Abhik has helped grow Spoton Logistics into the fastest growing express logistics brand in India within 7 years of inception. Before taking on an executive role
at Spoton, he served as Operating Partner at India Equity Partners, a leading mid-market private equity firm involved in control and minority transactions, where he successfully oversaw the acquisition of the domestic wing of TNT Logistics and its eventual transformation into a full- fledged express logistics brand.
Prior to India Equity Partners, Abhik served as Managing Director of TNT Logistics, a multi- national logistics service provider, where he helped establish the domestic express logistics business in India.
Abhik has held various executive positions in his long, eventful career. Starting his career with Unilever as a Management Trainee, he spent 14 years in the company excelling in various executive roles including those in Factory Management, Health, and Safety, Energy Conservation among others. From Unilever, he moved to RPG Enterprises and held various executive positions in the group including those as President & CEO for RPG Entertainment, Managing Director of SaReGaMa India and Managing Director, CEAT Tires in Sri Lanka where he oversaw the company's entry in the region.
Abhik earned his Bachelor's degree in Chemical Engineering from Indian Institute of Technology, Varanasi.
For More Information Do Visit ; https://web1.spoton.co.in/