Beyond Products Webinar: How 3D Printing Can Drive Business Innovation
Date : 22nd April, 2020
Time: 03.00 pm IST
3D printing is innovating how we make new and advanced products, but how do you jump from innovating products to innovating your entire business?
From reconfiguring your supply chain to reducing supplier risk to rejuvenating how you engage with your customers through compelling new levels of consumer customization, real use case examples alongside a flexible 3D printing innovation framework.
Fill the form to get further updates on the webinar . Take the first step to bringing the true innovation potential of 3D printing into your business.
Host Sathish Kumar, Senior Application Engineer at Stratasys India leading this lively conversation, explaining how you can leverage the innovation potential of 3D printing.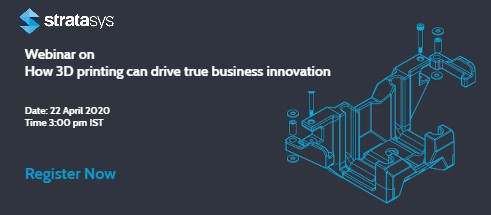 Do subscribe from the Link Below !
https://go.stratasys.com/How-3D-printing-can-drive-true-business-innovation_LP.html?utm_source=DynamicManufacturing&utm_medium=Email&utm_campaign=webinar
Make it with Stratasys.
We're the world's leading 3D printing company. For over 30 years we've led from the front – empowering global businesses to reimagine the way they design and manufacture their products.
We don't just work to the highest standards – we set them. Innovating, collaborating, inventing and reinventing. Constantly looking for new ways to solve unique customer challenges. It's what drives us. And it's how we've built a reputation as a trusted partner for the world's biggest brands.
From industry-leading hardware and the widest range of materials on the market, to intuitive software and world-class customer service – our end-to-end support is designed to ensure you get what's right for your business.