MADE IN INDIA. BUILT FOR THE WORLD.
The iFusion SF1 Metal 3D Printer is designed, developed and manufactured in India to international standards, sporting gold class components including IPG Lasers, ScanLab Optics and Beckho­ff Automation and is CE certified.
Don't compromise on build size or laser power due to budgets – the SF1 o­ffers the largest build envelope, combined with the highest-in-class laser power to deliver the maximum productivity at a cost that is about 30% cheaper than comparable printers. Intech's own build preparation software, AMBuilder, is integrated with the system. AMBuilder takes full advantage of the SF1's hardware capabilities, has a short learning curve and quickly delivers productivity benefits.
The productivity benefits do not end here, with our own parameter optimization software,
AMOptoMet, one can create parameter sets for new alloys virtually on the fly, rather than in weeks or months. Modules like MaxPower and MaxBuild can increase productivity up to 50-80%, thus truly delivering unparalleled throughput.
Whether the system is used for Engineering, Automotive, Tools & Die, Medical/Dental parts or metal parts for a myriad of applications, the iFusion SF1 delivers "More Parts per Build" at a faster rate than any other comparable Metal 3D Printer in the market. DMG Mori, a global leader in manufacturing systems, is an investment partner in Intech Additive Solutions Pvt. Ltd.
Applications: click here to know more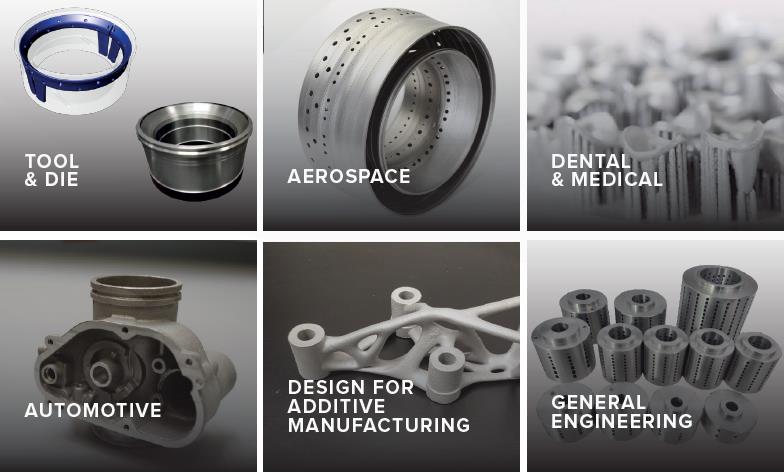 Key Features:
High build rate for cost-eff­ective manufacturing:
Powerful yet compact, the SF1 has a 500W laser which means you can build with a higher layer thickness, greater throughput and work with a wider range of alloys. For dental applications, the laser focus diameter can be factory configured to 40 µm for fine features and improved surface finish reducing post processing work by ~30%.
Highest in Class Build Size:
Circular build plate with a with a 150mm dia x 180mm height highest-in-class build volume, more parts can be nested and stacked in a single run, increasing productivity and reducing your per part cost.
Integrated Software for Build Preparation:
Intech's own AMBuilder build preparation software which is integrated with the system takes full advantage of the SF1 hardware capabilities. It provides auto orientation, distortion control and intelligent support selection.
Truly Customizable Parameters on the fly:
Optional software AMOptoMet provides the optimum print parameters for the part – be it print speed, part density, or surface finish, besides creating parameters for new materials on the fly to "Get it right the first time". 
Easy to Print with a wide range of materials:
Parameters for Aluminium, Cobalt Chrome, Stainless steel, Maraging steel, Titanium and Inconel are available. Additional parameters can be made available on request.
The SF1 is 'Made in India" and can be bought in Rupees avoiding additional customs, freight and insurance costs. Prompt support is provided by trained Intech engineers with locally available spares.
Achieve the perfect build "First Time Right" for all your 3D printing requirements with iFusion SF1. To know more, visit us at https://intechadditive.com/ifusion-sf1/