The Industry Samurai Awards consist of 27 Awards to be Given Under 7 Categories Each Award will be given under 2 segments in terms of size: Large enterprises (revenue>Rs. 250 Crores) and SME/MSME (revenue< Rs. 250 Crore). The Awards will be presented at the end of a 2-day virtual conference to be held on 26th and 27th  November , 2020.
Today, India's manufacturing industry stands at a defining juncture. Global trade headwinds and the COVID-19 crisis have put it in a unique position. At home, the industry has upon it the responsibility of providing the economy a much-needed push in a new normal. Globally, manufacturers and consumers look for new manufacturing hubs in the wake of the trade war. And India, with its massive educated workforce and democratic institutions, finds itself among the top contenders.
However, by all accounts, India's manufacturing sector is punching far below its weight. Even though, at 16 percent, the sector's contribution to GDP is comparable to other large economies such as Japan (19 percent) and the US (12 percent), at the global level it has miles to go. Currently, India accounts for 3 percent of global manufacturing output, far below that of Germany (7 percent), the US (18 percent), and of course, China (20 percent).
Clearly, a lot needs to be done, and the government's Make In India campaign envisages a fast growth and a vibrant future for the sector. Among the campaign's chief objectives is to bring the industry to the front and centre of people's imagination and aspirations.
In its small way, MeshMix Media, through its publishing platforms — Dynamic Manufacturing India magazine (DMI) and www.machine-insider.com — has been doing its part to contribute to this cause. Over the last four years, we have captured the voices and experiences of manufacturers of industries such as aerospace, space, automotive, machine tools, disruptive tech, and medical devices.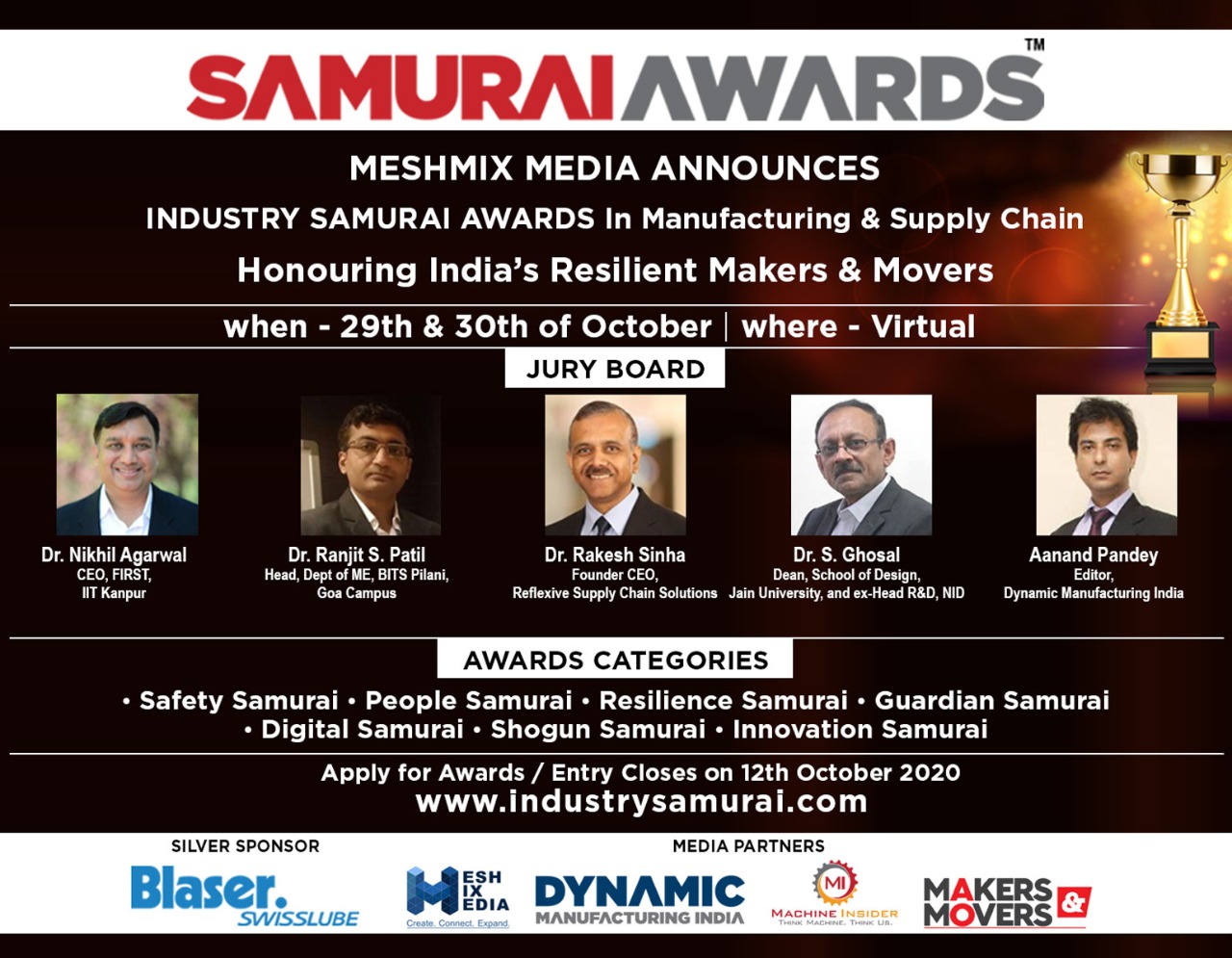 The COVID-19 crisis affected us as deeply it did the rest of the industry. But, much like the industry, we responded to it with positivity and aplomb. From March to May 2020, we conducted a series of webinars with seventeen industry leaders from the manufacturing and associated supply chain sectors. We spoke to them about the prevailing scenario, and what the industry can do to emerge stronger out of this crisis. We are soon releasing a special edition of our magazine, titled Seventeen Samurai. The title, Samurai, was to honour the industry's grit and resilience it is showing in the face of this crisis.
Taking it a step forward, MeshMix Media has instituted an award titled Industry Samurai Awards™ to recognize and felicitate manufacturing and supply chain companies and stakeholders who responded boldly and bravely to inarguably the severest Black Swan event of the last hundred years.
Entry Fee:
Applicable to both manufacturing and supply chain organizations.
Large enterprises are organizations with turnover for Financial Year 2019 – 2020 greater than INR 250 Crores. SME/MSME are organizations with turnover for Financial Year 2019 – 2020 less than INR 250 Crore.
GST at 18 percent applicable over the fee amount
Entry Fee only applicable for institutes, student, and NGOs for the following award categories:
Innovation Samurai, Students: INR 2,500 per application
Innovations Samurai, Institutes: INR 2,500 per application
Guardian Samurai, NGOs: INR 2,500 per application
What will the Applicant Get?
Coverage in all the platforms, namely, website (MI) and magazine.
One case study per application will be published on the website and magazine (max word count 2,000)
What all will the shortlisted nominees get?
Benchmark their performance with their competitors
A chance to present their case to the jury and to a larger audience of nominees, via live-streaming of the presentation round.
Coverage of their case study in the Awards Special Issue in the magazine and the website, and marketing of the same through all our media platforms
What all will the awardees get?
A trophy, certificate, and a digital badge
A comprehensive coverage and broadcast of the awardees credentials to via of MeshMix's media properties to more than 200,000 professionals in the manufacturing and supply chain industry
Planned Process
Application Deadline: 22nd of  October 2020 11:59 PM.
Award ceremony: 27th November  2020.
For Information do visit www.industrysamurai.com