INDUSTRY SAMURAI AWARDS In Manufacturing & Supply Chain
The Industry Samurai Awards consist of 27 Awards to be Given Under 7 Categories . Each Award will be given under 2 segments in terms of size: Large enterprises (revenue>Rs. 250 Crores) and SME/MSME (revenue< Rs. 250 Crore). The Awards will be presented at the end of a 2-day virtual conference to be held on 26th and 27th November, 2020.
AWARD CATEGORIES
Safety Samurai
Enterprises that best implemented processes and technologies for the safety of its employees and customers on the shop floor and in the supply chain.
People Samurai
Enterprises that implemented measures and best practices to boost the morale, motivate and support their stakeholders particularly their employees.
Resilience Samurai
Enterprises that best implemented Business Continuity Planning (BCP) practices to ensure the survival and sustenance of their core operations and business functions in the face of the crisis.
Guardian Samurai
Enterprises that contributed to the supply chain of essential goods and services such as PPE kits, ventilators, hygiene products and grocery products during the crisis.
Digital Samurai
Enterprises that implemented and/or accelerated their digitalization strategy to increase resilience, optimize business processes, and improve their go-to-market strategy.
Shogun Samurai
Industry professionals who have provided extraordinary leadership, direction, and vision to their respective organizations, and the industry at large.
Innovation Samurai
Academic institutes and their students that contributed one or more innovative products or solutions for protection/treatment/safety of people from Coronavirus during the pandemic.
Entry Fee:
Applicable to both manufacturing and supply chain organizations.
Large enterprises are organizations with turnover for Financial Year 2019 – 2020 greater than INR 250 Crores. SME/MSME are organizations with turnover for Financial Year 2019 – 2020 less than INR 250 Crore.
GST at 18 percent applicable over the fee amount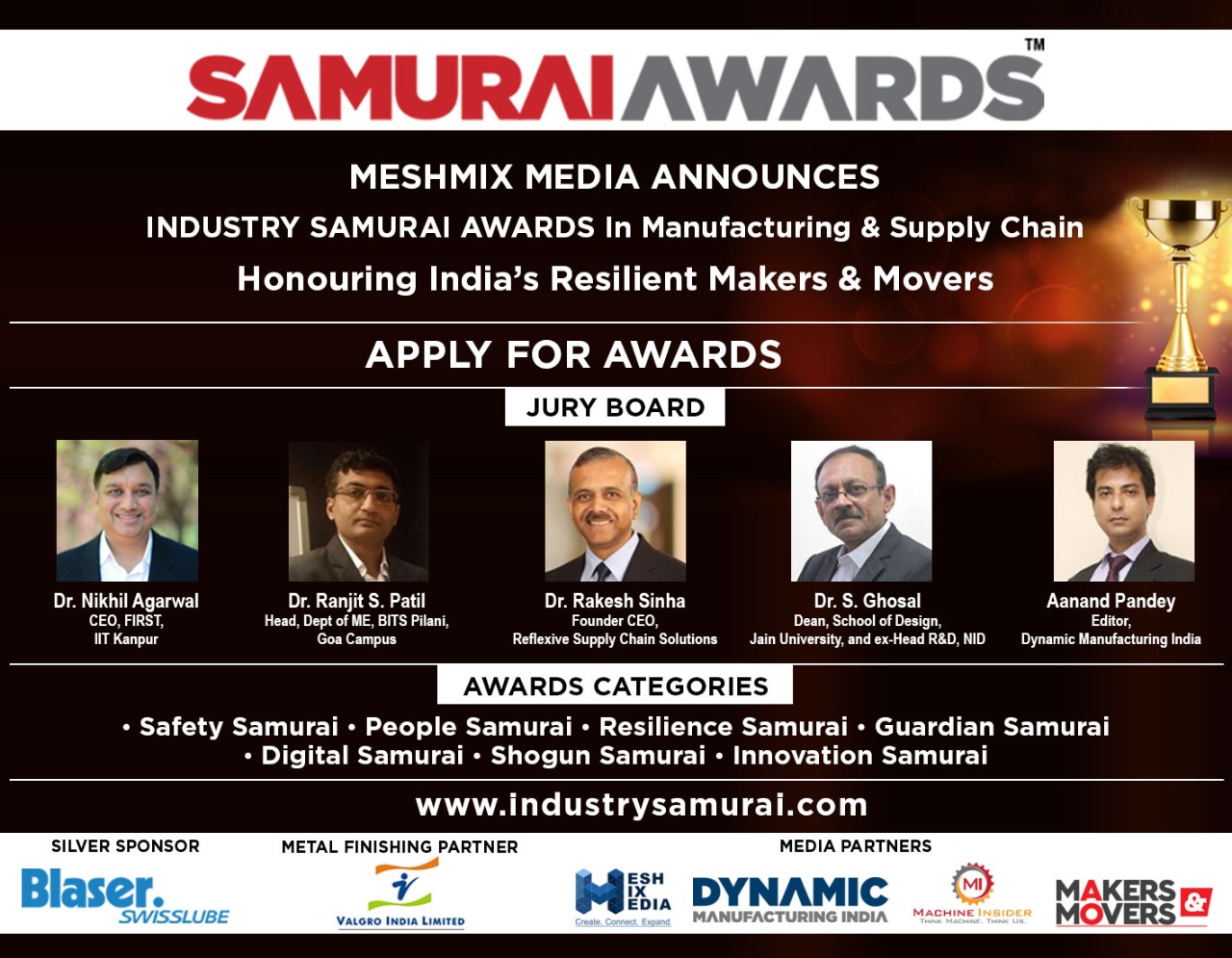 Entry Fee only applicable for institutes, student, and NGOs for the following award categories:
Innovation Samurai, Students: INR 2,500 per application
Innovations Samurai, Institutes: INR 2,500 per application
Guardian Samurai, NGOs: INR 2,500 per application
What will the Applicant Get?
Coverage in all the platforms, namely, website (MI) and magazine.
One case study per application will be published on the website and magazine (max word count 2,000)
What all will the shortlisted nominees get?
Benchmark their performance with their competitors
A chance to present their case to the jury and to a larger audience of nominees, via live-streaming of the presentation round.
Coverage of their case study in the Awards Special Issue in the magazine and the website, and marketing of the same through all our media platforms
What all will the awardees get?
A trophy, certificate, and a digital badge
A comprehensive coverage and broadcast of the awardees credentials to via of MeshMix's media properties to more than 200,000 professionals in the manufacturing and supply chain industry
Planned Process
Application Deadline: 22nd October 2020 11:59 PM.
Jury meeting: Between 18th November 2020.
Presentation of Finalist: Between 2nd to 11th of November.
Award ceremony: 27th November, 2020.
For More Information do Visit