The sealing world is huge and manifold. The reason for it is simple: in our highly industrialised world, the electronic and technical components need to be sealed in the best way as to maintain their functions. Hereby the interplay of the part to be sealed and the sealing is essential, in particular construction and stability of the part as well as adhesion of the sealing on different surface materials. One sector in the world of sealings with growing importance is represented by the liquid 2-component foam sealings and potting compounds for encapsulation of elements. Today they can be found in various applications from car building, electronics, switch board cabinets, air filters, packaging, household appliances to lighting and photovoltaics.
Due to the globalisation of production Sonderhoff's foam gasket solutions are used by industrial suppliers to seal their parts in many countries worldwide. For instance, structural components and modules that are used in the automotive manufacture must remain tightly sealed after their assembly. The reason is obvious: the interior space must be dry and clean and humidity and dust must be excluded, because such influences can easily become a risk for the safety of the car and the driver. Sonderhoff offers a broad range of various 2-component foam sealings and potting products with optimal protection against moisture, dust, temperature, chemistry, lubricants or other substances. They also help to temper vibrations.
Automated process for application of fluid sealings
The 2-component foam sealing products from Sonderhoff Chemicals (Cologne/Germany) are polyurethane based FERMAPOR K31 and silicone based FERMASIL. They are applied directly to the part in a fully automatic procedure – the so called FIPFG (formed in-place foam gasket) technology. It involves using a dispensing machine from Sonderhoff Engineering (Hörbranz/Austria) with a mixing and dosing head for the sealing application which is moved by the CNC controlled three-axis linear robot. Alternatively, a part handling six-axis robot guides the part under a fixed mixing and dosing head. A chemical reaction then causes the liquid material to foam up and generates a seamless gasket as a result. Even the most complex construction element shapes and the smallest grooves do not represent obstacles. For flat sealing surfaces without grooves and even on vertical surfaces it is possible to apply foam gaskets if they have a paste-like consistency due to high material viscosity.
Advantages of FIPFG technology for the benefit of an economic production
The FIPFG technology is compared to the traditional way of manual insertion of rubber seals (EPDM, TPE, NBR) efficient and very economic. The advantages are a constant sealing quality with a steady seal height. Further advantages are a high degree of process reliability at fast production speeds. This leads to cost savings as well as lower cost of personnel through a higher degree of automation. With FIPFG the material costs are very low because raw materials can be utilized up to almost 100%. There is no material waste as is the case with prefabricated inserted rubber seals that cause punching offcuts.
FIPFG-sealings perfectly adhere to many different surfaces of industrial parts and great variety of shapes including three-dimensional geometry. Foam sealings, which are compressible in itself, have utmost elasticity in order to compensate gap dimensions. In addition, the customer has the possibility to adjust the degree of hardness by varying the material mixing ratios and to change seal height and width by different dosing output.
Mutual influence between part construction and sealing
Amongst over 1000 Sonderhoff formulations the right selection of seal material is essential to correspond to the individual operating conditions of the part and the particular customer requirements. Hereby it is important to know that the part and the sealing need to be considered as an entity that has to achieve the required seal effect together. That can be examined by numerous test and protection standards, as for instance, NEMA 4 und 12, IP- protection up to class 68, UL50/50 E, UL 94 HF1/HF2 or FDA conformity.
Thus, the right choice of gasket material is determined by the construction of the part and its specific operating conditions. It, therefore, makes sense that the design engineer takes into account exact position and geometry of the sealing at the earliest possible date of the product development. He needs to consider whether a sealing groove would be necessary or how inclined contours can be best sealed.
Taking all into account, the FIPFG technology with the use of a Sonderhoff mixing and dosing system is an efficient and economical application procedure. As a result the 2-component technology FIP (Formed In-Place) for potting and FIPFG (formed in-place foam gasket) for foam sealing has become the industry standard in many fields like switch board enclosure, electronics, automotive, air condition, filter, photovoltaic, packaging or household appliances.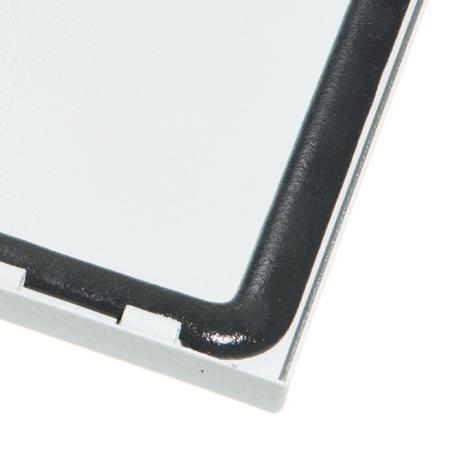 Company Portrait
The Sonderhoff group of companies with its headquarters in Cologne / Germany is the leading system supplier and manufacturer of polymer sealing, gluing and potting formulations, dispensing machines and automation concepts as well as for contract gasket application services.
The Sonderhoff System combines chemical and technical competence with creative engineering know- how in the fields of mixing and dosing of sealing material and process engineering provided with a comprehensive service entirely focused on satisfied customers.
The sealing products from Sonderhoff are used for foam gasket, gluing and potting applications of various industrial components, for instance, from the switch board enclosure, electronics, automotive, air condition, filter, photovoltaic, packaging or household appliance industry.
Sonderhoff Chemicals GmbH (Cologne / Germany) develops, produces and distributes worldwide polymer sealing, gluing and potting systems on polyurethane, silicon and PVC basis. Their performance is based on the experience of more than thousand formulations. The sealing material is applied onto structural components and modules of OEMs and industrial suppliers by the FIPFG / FIP (Formed In- Place Foam Gasket / Formed In-Place) technology.
Sonderhoff Engineering GmbH in Hörbranz / Austria develops and distributes all over the world low pressure metering systems, from stand-alone dispensing machines to automation concepts according to customers' specifications for fully automated production lines of foam sealing, gluing and potting.
Sonderhoff Services GmbH (Cologne / Germany) and Sonderhoff Polymer-Services Austria GmbH (Dornbirn / Austria) have positioned themselves as toll manufacturers for foam gasket, gluing and potting applications with the highest precision. Their services comprehend individual sampling of prototypes as well as sealing, gluing and encapsulation of parts, from pilot application processes and small batches up to serial production for OEMs and industrial suppliers in Germany, Switzerland and Austria. Partner companies undertake the contract manufacturing of foam gasket and potting for the customers in Great Britain, Poland, India, Thailand, Japan, Korea and Brazil.
The sister companies of the Sonderhoff Group in Italy, Spain, the U.S.A and China offer the complete range of sales, technical and contract gasket application services to the OEMs in these countries as well as production and sales of chemicals for the sealing formulations and the distribution of dispensing machines from Sonderhoff.
Sonderhoff (Suzhou) Sealing Systems Co. Ltd., located in the Singapore Industrial Park (SIP) in Suzhou and part of the Sonderhoff group of companies, started its business in 2009 and has successfully grown since then. Sonderhoff in Suzhou is responsible for the exclusive sales and distribution of the Sonderhoff product range in China, from sealing and potting material to mixing and dosing machines. It also offers contract manufacturing services for foam sealing, gluing and potting.
Sonderhoff Suzhou is prepared for technical services, machine maintenance and supply of spare parts. The systematically acquired application knowledge, more than 1000 formulations and the innovative power of the entire Sonderhoff group guarantee absolute customer orientation, tailor-made products and solutions in line with market conditions.
Article was published in Dynamic Manufacturing India magazine