Dr. Arvind Patel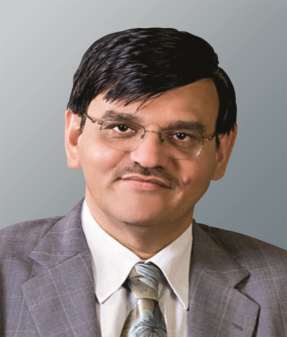 Like A Diamond:
Shaped Under Pressure
Dr. Arvind Patel – A Technopreneur
Dr. Patel's inclination and liking towards science and technology was evident at a very young age. Coupled with the deep interest in the science, he developed a zeal to create things and make them work. The success achieved by Dr. Arvind Patel has not been just due to luck – it has involved a series of events in the life of this entrepreneur.
The Early Years
Dr. Patel went through a lot of challenges and struggles in his formative years. Reflecting on the early childhood days, Dr. Patel says: "There have been many critical points in my life.  But I think one of them which can be considered as life changing and the biggest transition of my life was to know about Community Science Centre. In my childhood I was not a very intelligent student as compared to other students; especially in the eyes of my teachers. In fact, I failed twice in school; once in the second standard and again in the eight standard. Fortunately, my hobby lay in science; I used to think continuously about science and how science could be used for the mankind."
At that point of time, the Patel family was residing at the Shahibaug area of Ahmedabad. Through one of his friend, he came to know about Community Science Centre (CSC), also known as Vikram A. Sarabhai Community Science Centre (VASCSC). Dr. Vikram Sarabhai had founded the Community Science Centre at Ahmedabad
in 1966.
During those days, Professor A.R. Rao of CSC inspired young Arvind a lot. Narrating his experience with Prof. Rao, Dr. Patel says: "Prof. Rao created many techniques and models of practical mathematics. He used to give us many mathematical puzzles and I used to solve it. He changed my life."
It was like young Arvind had transformed. Prof. Rao had instilled a sense of confidence and self-belief in the young, budding technologist.
Legacy of resilience
Dr. Arvind Patel's father worked in a textile mill as a supervisor; he was, in fact, more of an engineer in approach and practice. Even though he could pursue his studies only till the 9th standard, he retained and continued his interest in the field of electronics which was like a hobby for him.
He used to enjoy repairing radios, tape recorders and other similar electronic gadgets. This life experiences shaped up young mind of Dr. Patel. Soon, young Arvind had made up his mind that he would pursue studies in the field of electronics and be an electronics engineer.
Experiencing entrepreneurship
After his SSC, Dr. Patel wanted to pursue BE in Electronics at L.D. Engineering college, Ahmedabad but he could not get in due to low SSC percentage. Even so, determined to get in to electronics and communication, he chose to pursue a Diploma in Electronics at A.V. Parekh Technical Institute (AVPTI), Rajkot.
After completing his diploma, Dr. Patel got job in a Mumbai-based medical company engaged in the business of X-Ray machines, ECG machines and many other related products. They wanted a salesperson for the Gujarat market. Dr. Patel took up that assignment. While on the job, he came across a course in the area of Bio-Medical Engineering. He found it to be interesting and enrolled for the program.  Dr. Patel stretched his days to do justice to both — mornings and evenings he would spend on meeting doctors for business and the afternoons on the course. He earned a Diploma in Bio-Medical Engineering from Technical Education Board, Gujarat in 1983.
Soon thereafter, he decided to start a business. Dr. Patel recounts: "In those days there was a growing demand for stabilizers. So I started making stabilizers and motor protecting devices for farmers. I created a small setup on the terrace of my house."
He was handing the designing and testing part and his younger brother worked as a technician taking care of assembly, purchase and other similar tasks. His father also handled some part of this business after his textile mill hours. They roped in a partner-cum-investor who handled the marketing part. Thus was born a small company called Sahajanand Electronics. They bought the necessary equipment for the business and invested around Rs 20,000. However, the business did not work and they sold out entire equipments and machineries for Rs. 19,000. Finally, he exited that business.
He attributes two reasons for failure; market characteristics and the need for working capital due to extended credit period demanded by the dealers. Dr. Patel felt that he should still get some more knowledge of the market.
More Life Lessons
Post his first business experience, Dr. Patel ventured into the area of biofeedback devices which are normally used for paralysis and other related complexities as a part of physiotherapy. However, there was only one physiotherapy institute in Ahmedabad. He soon realized that it was not a right path and gave up on that project.
Subsequently, Dr. Patel joined L.D. Engineering College as a part-time student. Alongside, he got an opportunity to work at Indian Space Research Organization (ISRO), Ahmedabad. He worked at ISRO for two years from 1984 to 1986.  During this journey he came across laser machine for the first time at ISRO.  On the completion of degree in engineering from L.D. Engineering College, Dr. Patel joined Gujarat Narmada Valley Fertilisers & Chemicals Limited (GNFC).
Another defining chapter in the life of Dr. Patel was to unfold. One of the leading ice-cream manufacturer and brand Vadilal Industries had imported a machine which had gone defunct. However, the seller could not send technicians due to the Ahmedabad riots of 1989.
Dr. Patel father was approached by a Vadilal consultant to look at the machine.  He accompanied his father when he went to inspect the machine.
The Patels assured the plant manager that they would fix the machine in a week and quoted Rs. 5000 for the repair. The manager agreed. Dr. Patel delivered as per the promise. Interestingly, Dr Patel was drawing salary of Rs. 5000 at GNFC at the time.
Vadilal people took him to other parts of the manufacturing plant which needed maintenance and repairs. It was a great opportunity; he bagged work order of around Rs. 2 lakh. He sensed an opportunity and soon after resigned from GNFC.
Enter: Laser Tech
At the time, Ahmedabad and Surat were important textiles industry hubs. Dr Patel's business of machine repair and maintenance needed expansion. He asked one of his friends to market his work in the Surat market.
Incidentally, this friend's father-in-law was into business of diamond polishing. This led Dr. Patel to a visit to a diamond polishing facility where he found to his surprise that all the work being done was manual. He thought about the possibility of introducing laser technology in the diamond polishing industry which would reduce the manual work and improve efficiency by a big measure. He had seen that ISRO used laser cutting machines to shape ceramic objects. He figured that laser could also be used to Diamond was also hard substance and laser technology can be used for job as another application.
He came back to Ahmedabad immediately and embarked on the new venture.
One of Dr. Patel's friends who was in the diamond polishing industry came forward to help with investment. An early survey of the market suggested that a machine that could cut diamonds was an immediate need considering the importance of it to the jewellery making industry.
That led the partners to import a laser-cutting machine from Switzerland. But, the machine was not suitable for Indian conditions; it failed after two months.
They soon realized that the importing the machine was not the solution. They had to create an indigenous version of the machine that suited the Indian conditions of high humidity, extreme temperatures and erratic electric supply. Apart from making the machine suitable for Indian climate, the machine should be simple to use, since most of the operators in the diamond industry were not technically trained to operate high end complex machines.
So the start-up team decided to visit a laser-tech trade show in Germany to understand all its uses in different industries. They were very excited to see that every component of the machine that they had conceived was available. They imported parts and assembled the machine in India. They were ready with the first machine after three months.
A small firm with the name of "Sahajanand Laser Technology" was formed and a manufacturing facility was started at Daman.
They had many teething problems but the attributes that helped Sahajanand Laser through all the problems were constant innovation and the process of creating new products for different industries and applications using laser technology. The core idea was to create indigenous versions of many such high-tech machines which would suit Indian conditions.
Sahjanand Laser saw many proud moments in is journey. One instance was when the company participated in a pan-India exhibition at New Delhi and Dr. Manmohan Singh, the then finance minister of India, spent more than half an hour to understand use of laser technology in the marking technology used to avoid duplication of coins.  Another proud milestone was when the company provided laser solutions and machines to the Indian defense industry at some critical moments; especially after the 1998 nuclear experiments. Due to sanctions and ban on India, vendors from Israel stopped supply for few key laser solutions; Sahajanand Laser quickly filled the gap. Reflecting on many such events in the journey, Dr. Patel says: "We Indians need to think differently. We should not underestimate our abilities. Thankfully, due to the Mars Mission and other such projects; the world has started looking at our technological capabilities in different way. A large number of scientists working with NASA are Indians and many of the very successful and noted doctors in working in the USA are also Indians. If they can create wonders there, they can also do the same wonderful things here in India."
Ordeal by fire
The most challenging phase for Dr. Patel began in 2008, when during an investor presentation, he suffered a severe stroke, which led to brain hemorrhage, right in the midst of the presentation. Dr Patel continued talking and answering the questions of the investors. He did not realize the severity of his condition but knew that something was wrong; he could not move his hand or leg. He just kept on talking to the experts for more than 10 minutes. The presentation went through and was appreciated. Dr. Patel was asked to leave the presentation room and told that they would discuss the matter internally. As he moved to get up from his chair, he could not control his body and fell down on the floor. He was rushed to the emergency room and subsequently underwent surgery. It was tough time for him and his family both on the personal and business fronts. A German company acquired by SLTL was was running into losses.
Things worsened. Soon, Dr. Patel also lost his memory and his abilities to speak and read. It was time to persist and win the biggest battle of his life. In his words, "Usually, I don't sit down; in fact I never had any experience of being in the wheelchair before that incident. But, I made up my mind that I had to get well; so I started exercising in morning, afternoon, and evening. Within two months, I went to the factory premises and I used to sit there. I wanted to come back to join my business again. But then I lost memory as well. When, I would be reading a newspaper, people would laugh at me because whatever I was reading was different from what I spoke. I tried to discover the mystery behind the human brain; how it works and how it functions. I realized that it could recover with mental exercise with the support of medicines."
Much to the surprise and delight of everyone around, Dr. Patel fought and won the battle. His resilience and persistence have seen him through all his challenges.
Professionalizing the Business
Over a period of time Dr. Patel realized that for the long-term growth and sustenance of SLTL, he needed to professionalize the management. He created a cadre of professionals within the organization to take up leadership positions. In his view, any organization aspiring to grow should over period of time professionalize the management. They had started to move in this direction way back in 2003-2004.
Dr. Patel has steered the company successfully despite the entry of many firms in the same line of business. Instead of fighting the competition with lower-cost, inferior products, he has chosen to fight by introducing better solutions and products.
Surging Ahead
Through the years, Mr Patel has forged SLTL as an innovation company that looks at all the emerging opportunities in the science and technology field.  Dr. Patel believes in making and creating the difference the world by creating new innovations which benefit India. He is working on solar, white coal and other sustainable renewable energy solutions especially for rural India which can power villages in a very cost-effective manner.
The company has evolved into a group of companies operating in many areas, such as Sahajanand Software Pvt. Ltd. and Lancer Medical Technology Pvt. Ltd.  and others. SLTL has participated in nation-building as part of some of the recent projects of ISRO; some of them have received extensive media coverage and have received praise from the Prime Minister Shri Narendra Modi.
The company has carved out a special niche and achieved a position in an industry which is rapidly moving and wherein technology of today becomes obsolete tomorrow. The company has achieved this position with an in-house multi-disciplinary R&D team comprising research scholars, software engineers, electronic-mechanical-instrumentation engineers and laser specialists among others.
Message for Entrepreneurs
Dr. Arvind Patel has been a great inspiration for the coming generation of the technology based enterprises. He devotes his time interacting and also helping technopreneurs.
He believes that as a result of life evolution, many opportunities get unfolded. But an entrepreneur should see those things and visualize. According to him an entrepreneur should be able see things and visualize before creating those innovative solutions. An entrepreneur should be able to create common thread between opportunities, challenges and innovation. He says: "As an entrepreneur I never worked for money. It is all about liking and passion to do something innovative. That is why whenever, I am invited for as guest speaker particularly for young students of MBA or technology, I say that if you find out your liking then you progress very fast. Otherwise you will only be following others. When, I created laser technology-based solutions, the industry did not exist in India. I created products first and then showed it to people. People do not believe what they have not seen. It continues as our philosophy even as of now."
About SLTL: Cutting-Edge Innovation
Sahajanand Laser Technology Limited (SLTL) is the company that has epitomised the term 'Trailblazer. The foundation of this organization has been built on the idea of disruptive innovation — just after its establishment, SLTL invented fiber laser cutting machine, a machine which went on to become a game-changer for the metal forming industry.  The inventor of fiber laser cutting machine, Dr. Arvind Patel founded SLTL in 1989.  Eventually Sahajanand Laser Technology Limited emerged as the first Indian company responsible for laser-cutting revolution across the globe.  With an aim to make metal forming process simpler and quicker than ever, SLTL set up the operations in 1992 in Gandhinagar, Gujarat.
The inception of the company's service diversification took place in 1995, and since then it have ventured into multiple disciplines across the spectrum which are: Cutting, Marking, Welding, Micro Machining, Solar Cell Scribing/Cutting, ad Diamond Processing and Scanning. It has explored all of these mentioned domains keeping laser at the center of its deliverables. SLTL is a global leader in Computer Numeric Controlled (CNC) Laser services, a highly advanced service used by a few manufactures internationally.
SLTL introduced the Laser Diamond Sawing system in India in 1992, which established a milestone in the industry. The company has been actively contributing to the industrial development of India, ever since. SLTL's strength is its ingenious research and development department, through which the company has marked its presence as the world's largest manufacturer of CNC laser systems for the diamond industry. As an endeavor to bring ease of usability, SLTL has come up with its in-house laser marking interface named MARK PRO.
Thanks to its dedicated research team, SLTL is an undisputed leader in its domain in India's diamond industry. The Indian subcontinent, South East Asia, Middle East, Russia, China, Europe, USA, Canada, and Latin America have become SLTL's exporting destinations for laser-based applications.
Following the legacy, SLTL's recent initiatives have focused on the improvement of metal forming process. SLTL has launched sheet stacker and loading unloading machine in 2016 for the first time in India, and the machines have set newer performance benchmarks in the metal-forming works at the factories.
Proud Moments
Dr Arvind Patel has played a key role in the building of Chandrayaan-1, India's first mission to the Moon. His company,  Sahajanand Laser Technology Ltd (SLTL), supplied several components for Chandrayaan-1.
Scientists used some of these components to send pulses of infrared laser to a strip of lunar surface. SLTL has participated in several other projects of Indian Space Research Organization (ISRO). It has also provided laser solutions and machines to the Indian defence industry at some critical moments, especially after the 1998 nuclear experiments.
Cover Story Published in Dynamic Manufacturing India (July- August  2017 issue )
By Meshmix Media Pvt Ltd