ORDERFOX.com, the CNC Marketplace, is fast becoming a true global network
Ruggell, Liechtenstein-based ORDERFOX.com is the largest digital marketplace for the global CNC industry. It connects CNC manufacturers, buyers, supplier and all the other industry stakeholders globally, helping them tap into global business opportunities, reduce transaction costs, increase capacity utilisation and productivity.
In other words, at ORDERFOX.com, manufacturers can search for CNC orders, both local and global, and buyers can create Requests for Proposals (RFQs) and expand their partner and supplier networks. With features like Global Trade Show and Event Calendar, Knowledge & Trends and the recently integrated Autodesk ForgeTM Viewer into the platform, the site provides a number of functionalities and value-adds to the members.
Launched in 2017, ORDERFOX.com has begun to see participation from Indian manufacturers, buyers and suppliers. Recently, DMI interacted with Bernd Schuler, Managing Director, ORDERFOX.com to get his perspective on what the site offers, the major trends of the global manufacturing industry, and the significance and position of the Indian manufacturing industry. Edited excerpts.
Can you share with us a timeline or history of ORDERFOX.com, and how you have grown over the years in types of offerings and the market spread?
The world is facing a digital transformation. Eventually, companies that want to remain competitive will have to join the fray. At ORDERFOX.com, we offer a tool to facilitate the entry of manufacturers into the digital world.
We focus on the global network of CNC manufacturers and buyers. "Capacity Management" is our core strength – all other functions and features are built around it. With the help of intelligent filters and functions, especially developed for the industry, our users search for orders, and create CNC RFQs on ORDERFOX.com. The interface is simple and intuitive. Each site member has a digital company profile that features details like company name, range of services, references and much more that make the business a part of the world´s largest CNC community. A digital company profile increases the chances of the member tapping into new business opportunities. CNC manufacturers can also underline their strengths and competencies even better and thus leave a strong digital footprint.Many years of developmental work and decades of industry knowhow have gone into building the platform, both on the manufacturing and the procurement side. ORDERFOX.com was developed especially for the CNC industry and its needs, with an aim to make it an everyday tool for manufacturers and buyers, and support them with automated processes.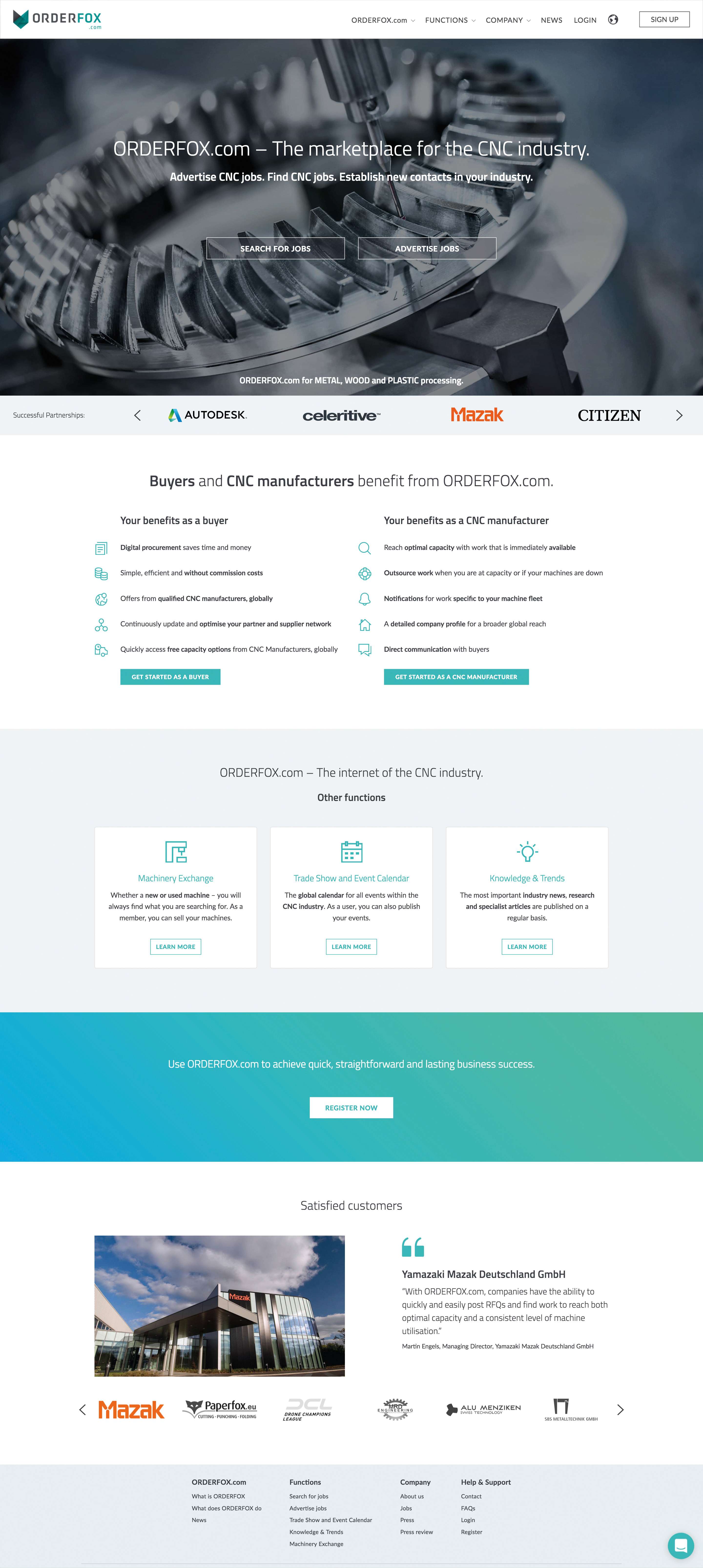 ORDERFOX.com is a very young and emerging platform. We launched ORDERFOX.com for the metalworking industry in German-speaking countries on June 1st, 2017. We have had a very intense and exciting journey since. In only about three months, in September 2017, the platform was already available in several languages. At EMO Hannover 2017, we took the plunge and presented ourselves to an international audience. During the six days of the exhibition, we were able to interact with more than 1,450 companies from 63 countries. We knew right away that we had something special – the feedback from the market was extremely positive and valuable. In 2018, we implemented many additional steps of our wish-list such as the expansion of the platform to include the wood and plastics processing industry and the Machinery Exchange feature.
ORDERFOX.com follows a global usability strategy. Today, it is available in 25 languages, so each user can work within their local language, as well as other localised, country-specific characteristics, for example the measurement system used in the USA (Imperial) versus that of Europe (Metric).
The additional features of the platform include a global Trade Show and Event Calendar, the Knowledge & Trends section, the Machinery Exchange for New and Used Machines as well as a Career Centre.
On ORDERFOX.com, we work on "all-in-one" solutions. At our Machinery Exchange, for example, you can place and sell your own machines as well as search for new or used machines. Once you have found a machine, you can conveniently request a transport estimate via a partner. In the future, financing partners and insurance companies will also expand our range. You see, we have no shortage of ideas when it comes to creating added value for our community.
Can you give us and idea of the response that ORDERFOX.com has received from the global CNC industry in terms of active users, regions or countries, and order generated or fulfilled?
ORDERFOX.com is the largest search engine for the CNC industry. In 2018, orders for around 20,000,000 parts in total were placed on ORDERFOX.com. More than 4,300 registered companies from 72 countries use our platform with new ones signing up and joining the platform daily. The majority of our members are currently located in Europe, as we launched the platform here in Europe first, before we did in Asia and the USA, which, by the way, have started to prove to be very strong markets. We are on our path to becoming a true global network. We envision ORDERFOX.com as truly a borderless platform designed to connect manufacturing companies and the procurement industry partners around the world.
On ORDERFOX.com, buyers find simple and efficient procurement processes without commission costs. They can continuously update and optimise their supplier network. Our platform offers fast access to free capacities of CNC manufacturers. Manufacturers, on their part, can use ORDERFOX.com to optimise their machine capacity. They find readily-available CNC orders and can outsource work when they lack in-house capacity, or when a machine is down. Manufacturers can also subscribe to individual searches for free machine capacities. Instant email notifications as well as daily email updates inform the users about suitable CNC orders. This saves, and earns, them a lot of time and money.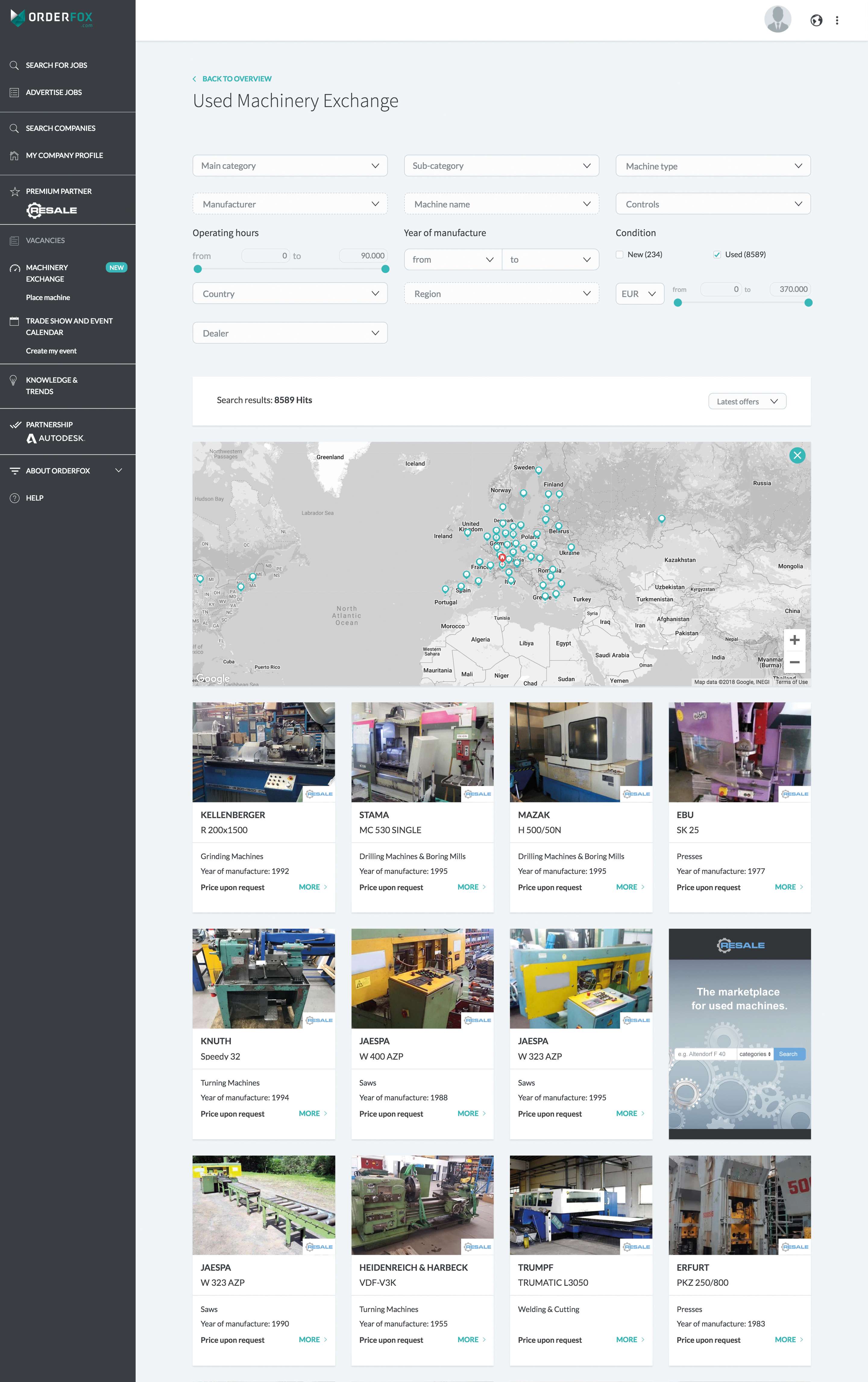 ORDERFOX.com is also a knowledge platform that provides technical knowledge and industry updates to the visitors. Can you share with us the vision and purpose behind it?
We put a lot of focus on providing added value to the global CNC community. With our platform's features, we want to ease the everyday life of our users and optimise processes, making them faster, automated and more efficient. ORDERFOX.com offers a highly efficient all-round package for networking globally and generating new orders, revenue and employees. This is why we have also created the Knowledge & Trends section. Here we provide our members with the most important industry news, research results and professional articles. Our community can thus obtain comprehensive information on topics such as technological change, digitisation, market developments, innovations and much more. We currently have 22 content partners from 7 countries. Magazines, research institutes and universities worldwide are invited to participate at Knowledge & Trends and to republish their articles. Our partners also benefit from the international focus of our platform and have the unique chance to present their company, publishing-house or magazine directly at their target group.
What are the benefits that a visitor or someone who wants to register with ORDERFOX.com can get from using this platform?
Our users benefit in several ways. ORDERFOX.com is the world´s largest CNC-related database providing CNC manufacturers, buyers and their related industries with potential new business opportunities, while using intelligent filter functions to search for just the right buyers and CNC manufacturers that fit within their specified requirements.
Companies present themselves with a company profile in the world's largest CNC database. Through the digital company profile on ORDERFOX.com and the use of our additional platform features, companies strengthen their digital footprint. ORDERFOX.com is intuitive and easy to use. As the platform grows and we integrate new features, ORDERFOX.com provides even more benefits to help the users in daily business operations and planning for the future.
Due to industry 4.0 and the advancing digitalisation, all companies are finding it imperative to have a relook at their processes, redesign procedures and in many cases, reinvent themselves. Trends such as digital purchasing, automated purchasing processes, big data and the availability of real-time information will fundamentally change the role of the buyer. Whether it is procurement itself, supplier management or strategic-procurement management decisions, digital networking will make the exchange of information more intense. ORDERFOX.com offers buyers a simple, efficient and accurate tool to take the full advantage of digital tendering processes and find the right production partner. With just a few clicks, RFQs (Request For Quotation) are created with the help of intelligent filter functions. Specifications of manufacturing partners such as company size, the language of quotation, certifications or terms of delivery can be predefined for the tendering process. In addition, users can use exclusive partners or company blacklists to optimise the accuracy of their tendering process.
CNC manufacturers, on the other hand, get a tool to optimally utilise their machines. At ORDERFOX.com they can search for suitable CNC orders or outsource work when faced with overflowing order books. They get the tools that allow them to create individual searches for suitable CNC RFQs for their free machines or underutilised capacity, and can specify their search criteria by selecting areas for materials, work-piece size, technology, certification requirements, location and even the type of delivery. By subscribing to the search results, manufacturers are informed immediately or daily via e-mail notification about new, suitable CNC orders and RFQs. This saves time and effort.
ORDERFOX.com is the "Internet of the CNC Industry" for a reason. What we offer to the CNC Industrial sector hasn't been done before, we make searching for specific information, partners and resources easy and efficient, without the unnecessary hurdles as seen with basic and general web searches. With the addition of resources like the Global Trade Show and Event Calendar, members have the ability to include in-house events into the platform and publicise their events for free.
Similarly, at the Machinery Exchange, users can not only search but also list and place their own machines. We bundle offers not only from our community but also from our partners worldwide. In order to provide a more detailed "all-in-package" we negotiate with financial partners, insurance companies and other transport companies.
In the beginning of 2019, we will launch a Career Centre in order to make it easier for our users to find skilled and qualified employees. Registered members will then be able to post, publish and manage open jobs. Pre-defined selection fields and filters are available for posting jobs, which can be easily and quickly created in multiple languages. Our members will soon be using the world's largest CNC database to find qualified employees for their company and fill vacancies. They can search not only for specialists in the traditional CNC areas, but also for other departments, from administration to sales.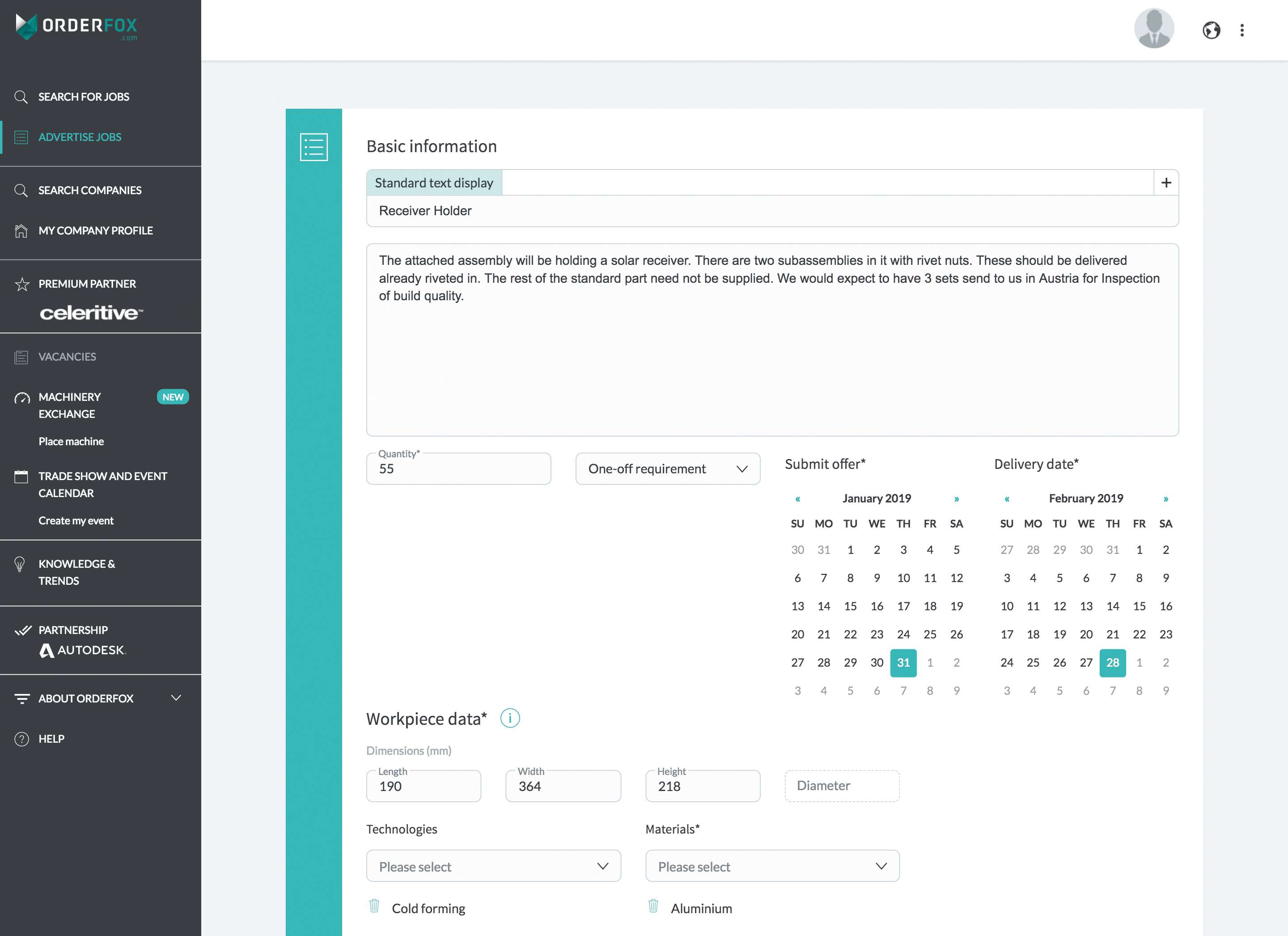 Recently Mazak Germany has partnered with ORDERFOX.COM for the German market. What is the significance of the partnership for your growth strategy? Are you looking to form more such partnerships in 2019?
Mazak Germany is the first new machine partner for Germany, Austria, Switzerland, Liechtenstein and Luxembourg at the ORDERFOX.com's Machinery Exchange. The year 2019 will see more such partnerships with machine manufacturers such as Citizen, Mikron and INDEX TRAUB when these companies will begin to offer their machines at our Machinery Exchange.
We are proud of the fact that ORDERFOX.com was able to partner with international companies in 2018 for shaping the digital future of the CNC industry. The leading global player of software solutions, Autodesk® has recognised the endless possibilities that emerge from our association. This brings vast benefits to customers and users of both companies. With the integration of the Autodesk Forge Viewer into the platform, our members can upload 2D or 3D design data when creating an RFQ and convert it into a 2D or 3D-view model free of charge. This is then visible along with the respective order. Special ORDERFOX.com plugins have been developed for the Autodesk software programs AutoCAD, Fusion 360 and Inventor. With these software plug-ins, users can place CNC orders directly on ORDERFOX.com, all of which makes the path from the design to the finished work-piece very short and efficient.
On the occasion of the product launch of the new VoluMill NEXION Essentials™ Software, we were also able to negotiate a very attractive offer with Celeritive Technologies, the developer of VoluMill™ and VoluTurn™. VoluMill NEXION Essentials™ is a platform-agnostic software meant for optimising toolpaths for rough milling and is compatible with any CAD or CAM system. If companies register via the Volumill website www.volumill.orderfox.com/celeritive with the promo code VOLUMILL01 on ORDERFOX.com, they will receive a free 12-month VoluMill NEXION Essentials™ license from Celeritive Technologies.
Negotiations with many other players in the CNC industry are going on as we speak. We invite all industry participants to mark their presence at ORDERFOX.com and help shape the digital world.
How do you see the Indian market and the Make in India campaign? What are your plans for Indian market?
As one of the largest economies in the world, India has the potential to develop into a serious competitor to the industrial nations. With the "Make in India" campaign, the Indian government is doing everything to strengthen the manufacturing industry and promote foreign investments. With the associated reforms having a lasting impact, India will soon be able to fully realise its potential.
Today, many international corporations and European SMEs (small and medium sized enterprises) already operate branch offices, technology and software development centres in India. And not to forget, India has already proven to be an important force for the European economy. The latest VDMA figures on machinery exports from Germany to India underscore this point.
For European buyers, the Indian automotive suppliers and mechanical engineering companies in particular are important trading partners who provide supplies that are often cheaper and of better quality than those of Chinese suppliers. Most Indian exports go to Europe, ahead of the USA and China.
As a matter of fact, the Indian market is very important for the global manufacturing industry. We invite all industry participants in India to register and participate at ORDERFOX.com. We can help them take advantage of the international business opportunities, achieve new contacts – locally or globally –  and to optimise workflows.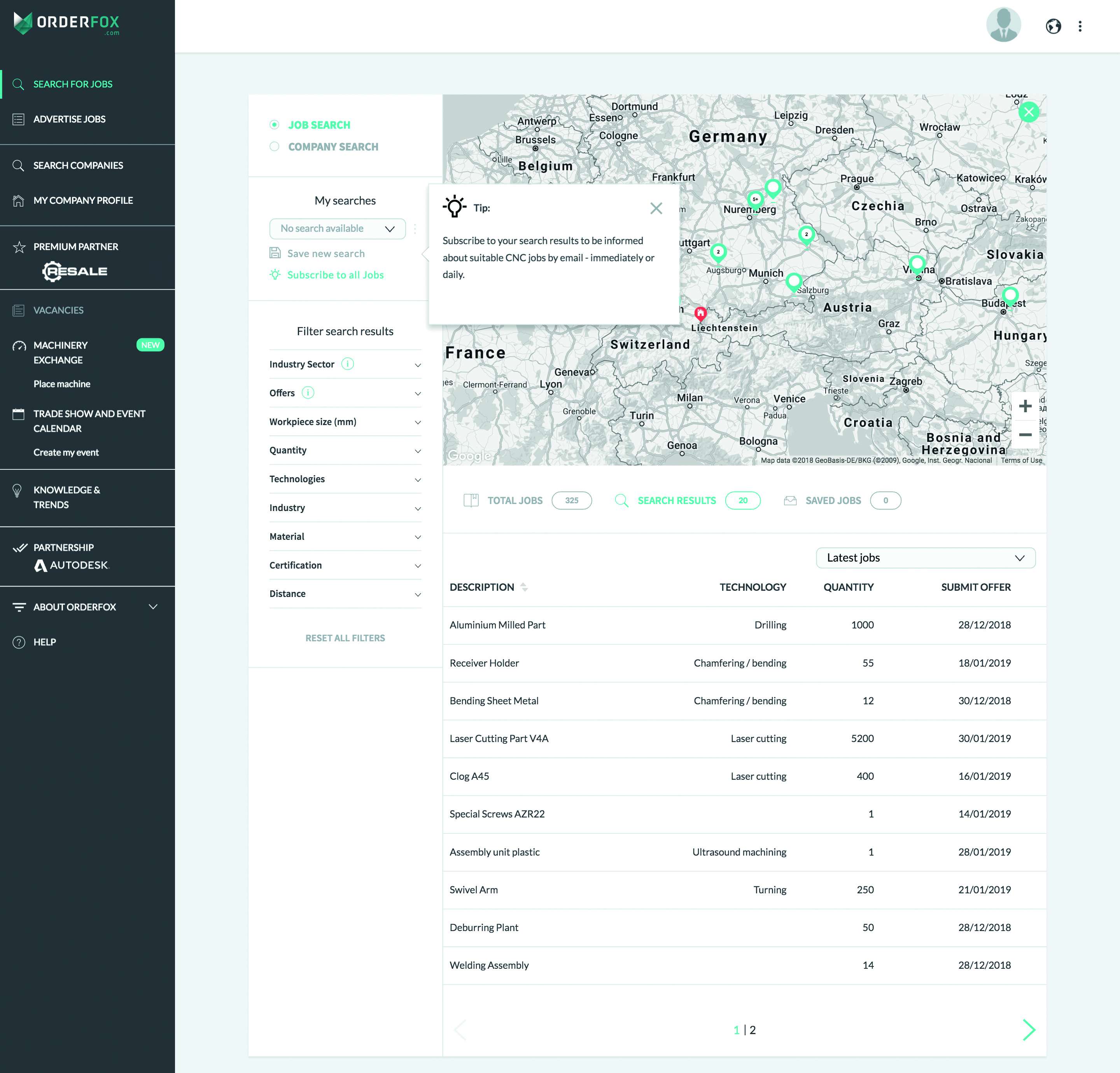 What are your top three predictions of trends and developments that will have the greatest impact on the global manufacturing Industry over the next 5 years?
It is difficult to say. That said, digitisation and the associated global networking, digital procurement [sourcing through digital platforms and networks], optimisation of production processes as well as advancements in capacity utilisation certainly count among the biggest trends, with inherent challenges, that we will see in the next 5 years.
Digitisation, Digital Transformation or Industry 4.0 – no matter what you will call it, is a combination of new technologies – from big data analytics to 3D printing – is revolutionising the operational and administrative processes of companies and is creating innovative digital products and services. With that in view, more and more manufacturers are switching to tools that will help them optimise their workflows,
so they can make faster, more focused and informed decisions.
In terms of procurement, procurement officers need to rethink the value added by digital procurement, or 'Procurement 4.0' as it termed by some observers.  With the new opportunities provided by digitisation and big data, traditional organisational boundaries between research and development (R&D), manufacturing, procurement, and, in some cases, the entire supply chain, will become increasingly blurred. We all need to become more flexible and adaptable in a future where professions could change and processes could disrupt and regenerate.
By networking globally and reaching out to a larger number of potential suppliers, buyers can save more and grow faster. Purchasers not only have better opportunities for comparison, they can also fine-tune their procurement processes. The quality of the products will be improved due to the availability and access to valuable supplier data. As a result, procurement processes will become more efficient and save both time and money.
When analysing the future of manufacturing, most strategies tend to steer towards the use of technology that provides access and a pathway to opportunity, production utilisation and ultimately, stability. ORDERFOX.com delivers that industry access; it fulfils the need to find the right production partners, it provides manufacturers additional opportunities to keep their machines running, which is key to success, growth, and sustainability.
Our members and partners have already recognised the opportunities ORDERFOX.com offers. We welcome all industry participants – buyers, CNC manufacturers, suppliers, associations, magazines, and others – who bring value to our members and strengthen their relationship with ORDERFOX.com.
EXECUTIVE PROFILE
Bernd Schuler is an expert in B2B communication and marketing. He has the reputation for being a creative explorer, always on the lookout for new "interactive" tools for efficient customer dialogue. He recognised the new opportunities of the Internet and the discipline of online marketing at an early stage in his career. He is convinced of the digitalised future of the industry and the potential of the platform economy.