"Don't miss out!"
ORDERFOX.com launches a new, highly efficient Order and Quote Management System – The new tool for empowering the CNC Industry!
The CNC Industry is in state of a dramatic and unstoppable change, and digitisation is the name of the game – for both Buyers and CNC Manufacturers. With the New Order and Quote Management System from ORDERFOX.com, Buyers and Manufacturers can significantly optimise and simplify their processes to become more efficient.
ORDERFOX.com launched on 1 June 2017 and to date has grown to become the leading online global Marketplace for CNC companies within the metal, wood, plastics and 3D printing sectors. Buyers get instant access to available CNC capacity, while Manufacturers find immediately available RFQs for CNC work. With the launch of the new and innovative Order and Quote Management System, capacity optimisation has never been easier, thus saving companies both time and money.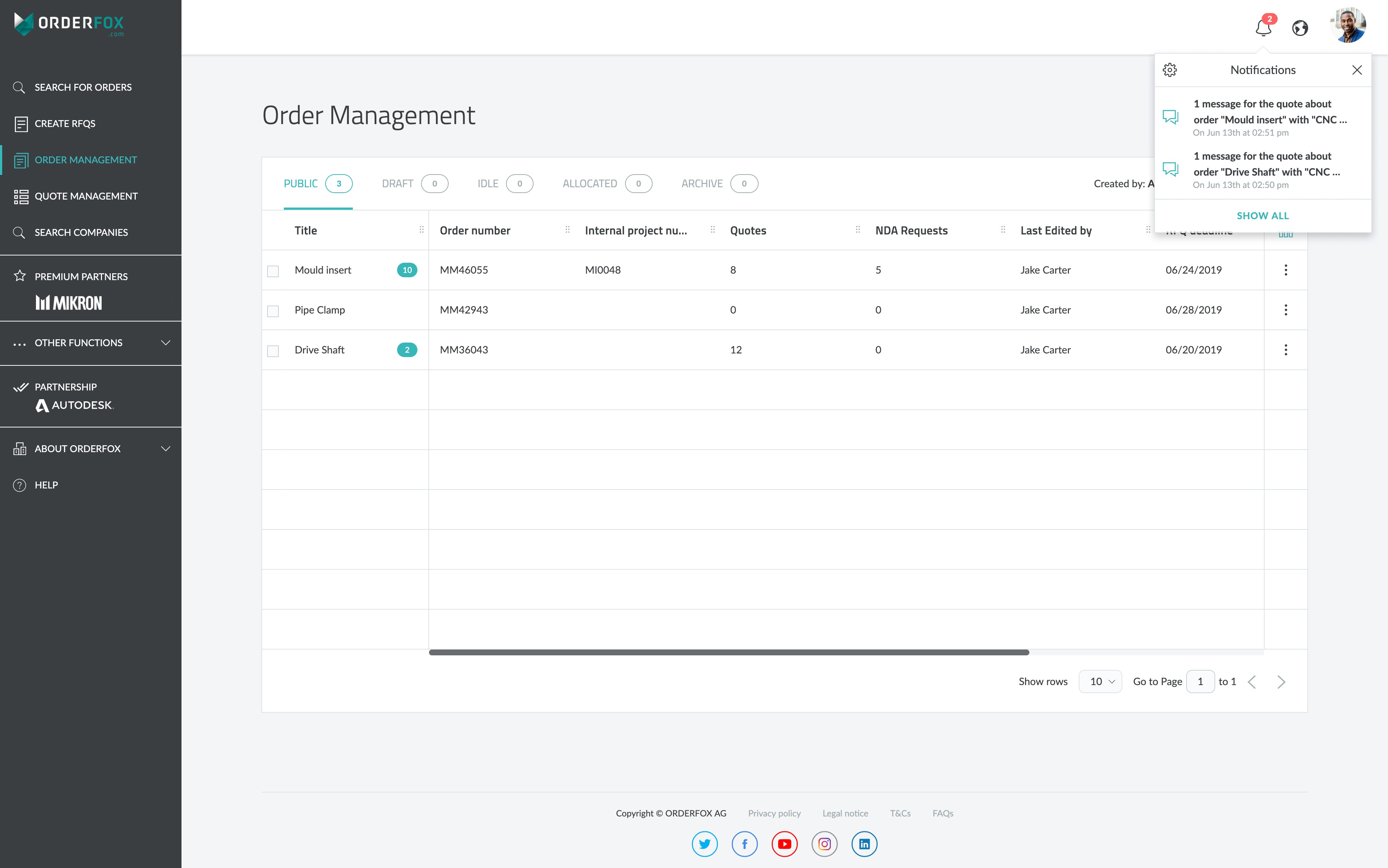 Added value for Buyers: Order Management System for complete control of all orders details
On ORDERFOX.com, Buyers can request quotes, organise and communicate all in one place. With the new Order Management System, Buyers can both manage the necessary details and communicate quickly and easily with Manufacturers regarding open topics. By utilising the new Messenger, both Buyers and Manufacturers have direct access to each other in real-time. The Messenger enables not only direct communication, but also the ability to upload and download files for ease of process and increased efficiency. In addition, the In-App Notifications ensure that no messages will ever be lost, so say goodbye to the infamous flood of e-mails! Now, Buyers can respond to current messages and information instantly at any time – and ORDERFOX.com can even do it for them in certain situations. Within these new ORDERFOX.com functions, one key advantage is that the platform can automatically notify all Production Partners when the RFQ has been awarded to another member company, thus making sure all members are 100% up-to-date, while keeping future lines of communication open. Customisable tables ensure that the Buyer only sees the data they need in their overview – for example, the status of the Non-Disclosure Agreement (NDA) process. To provide more added value, Buyers can use Blacklists and Exclusive Partner Lists to control exactly who is able to view RFQs, and who is not.
The perfect solution for CNC Manufacturers: easier Quote Management for all information
With the innovative Quote Management System from ORDERFOX.com, CNC Manufacturers have an organised overview of all quotes they have provided at all times. No status is missed – regardless of whether CNC Manufacturers are working individually or in teams.
With the In-App Notifications, CNC Manufacturers have full control of all quote communication at all times. The Messenger enables direct communication with the Buyer's contact person for questions, and quotes can be sent with just one click – and withdrawn just as easily. To speed up the process, ORDERFOX.com sends automatic notifications when a Buyer accepts or rejects a quote. With all submitted quotes being managed and viewed centrally, and the use of customisable tables, CNC Manufacturers are always able to view the most important information at a glance.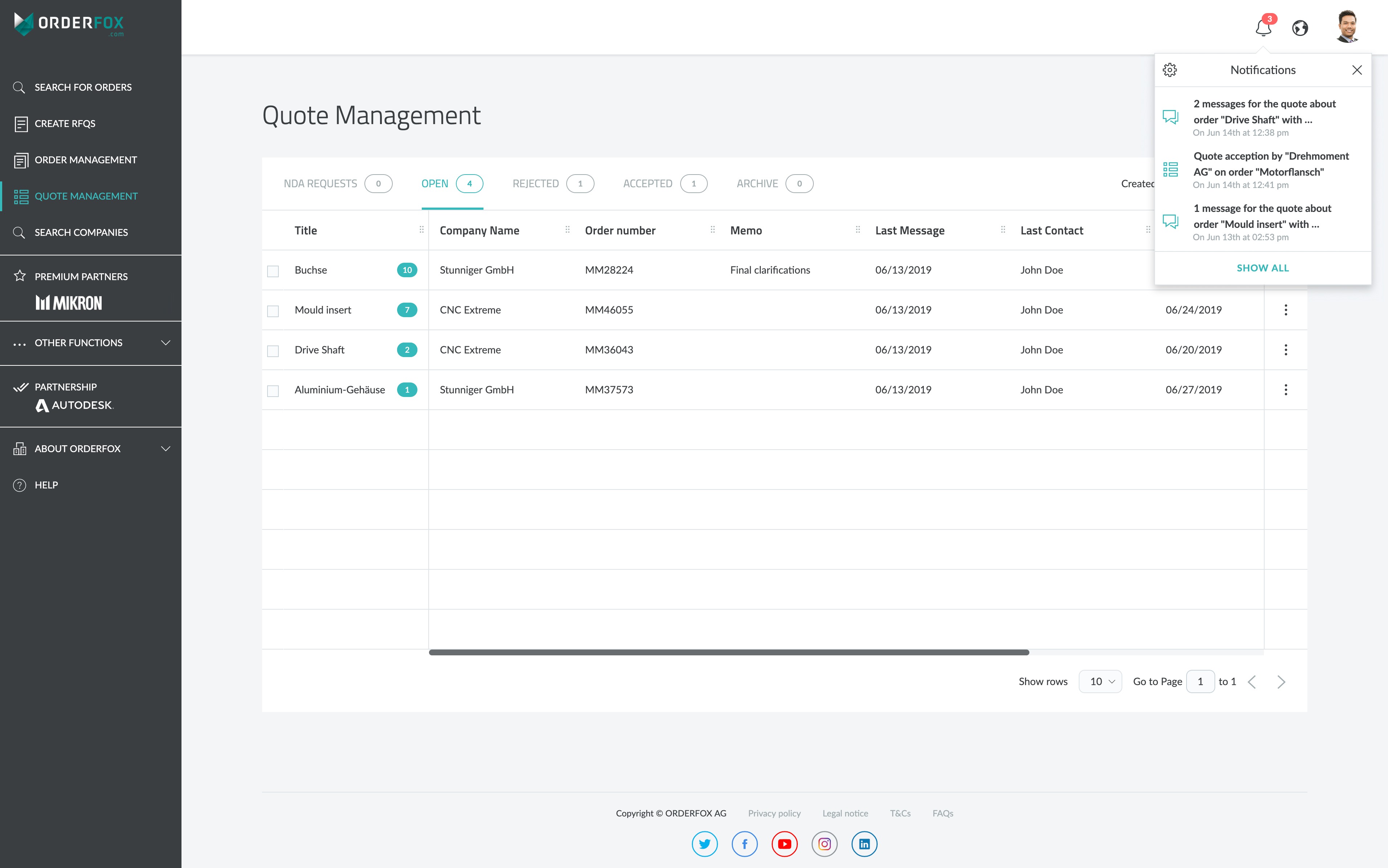 Currently over 12,000 companies globally are utilising the "Internet of the CNC Industry"
For an increasing number of companies, ORDERFOX.com is becoming an essential tool being integrated into their daily processes. Companies of all sizes, from SMEs and large corporations, to international market leaders, have all joined as verified members of ORDERFOX.com. "With such a global reach, every registered user has the opportunity to come in direct contact with thousands of high-calibre potential business partners daily, while significantly improving their growth opportunities", explains ORDERFOX.com Managing Director Bernd Schuler. "They can also present their company very effectively to the entire CNC Industry through their globally accessible company profile. ORDERFOX.com is the world's largest CNC Marketplace – and is a pioneer for digitisation across the Industry. Companies on board automatically become active players in the digital CNC future."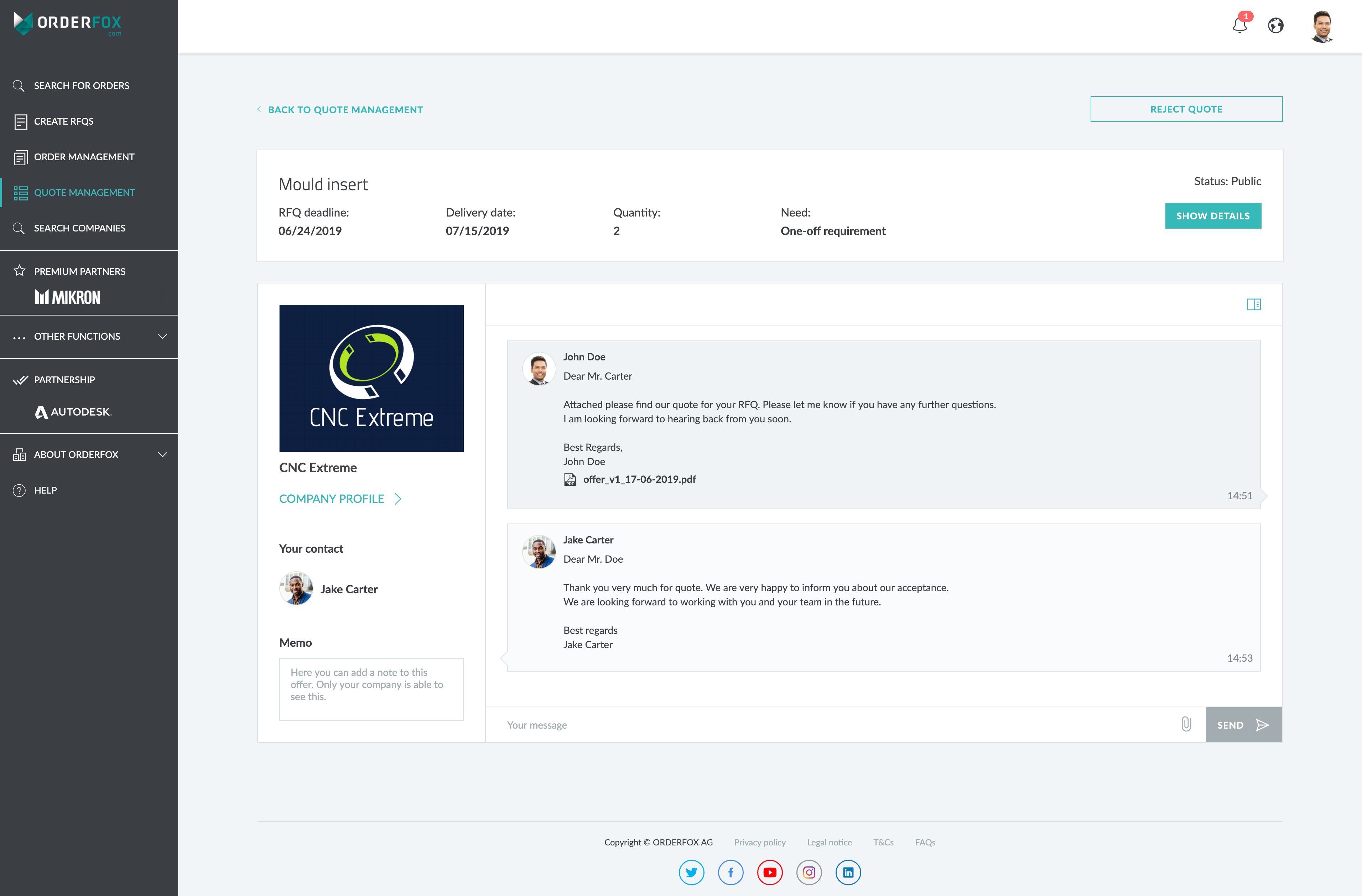 About ORDERFOX.com
ORDERFOX.com is the world's leading digital Marketplace for the CNC Industry. It's where Buyers and CNC Manufacturers can find suitable production partners or new orders with just a few clicks. It's direct, local and global, with minimal effort and commission-free.
ORDERFOX.com was developed as a response to the Internet of Things (IoT), Industry 4.0 and the rapid progression of digitisation in all production processes. This interactive community connects Buyers and CNC Manufacturers around the globe, unlocking unlimited market opportunities in the truest sense of the word, for all users. ORDERFOX.com has been online in 25 languages since 2017.
Further Information: www.orderfox.com.