Rajiv Bajaj, Managing Director, India & SEA, Stratasys shares fascinating insights on the additive manufacturing a.k.a. 3D printing technology. An engaging conversation replete with unmissable takeaways for both students and practitioners of manufacturing
Stratasys, one of the global leaders and pioneers in additive manufacturing (also known as 3D printing technology), is the manufacturer of FDM (Fused Deposition Modelling) and PolyJet 3D Printers. The company's technologies are used to create prototypes, manufacturing tools, and production parts for industries, including aerospace, automotive, healthcare, consumer products and education. For 30 years, Stratasys products have helped manufacturers reduce product-development time, cost, and time-to-market, as well as reduce or eliminate tooling costs and improve product quality. The Stratasys 3D printing ecosystem of solutions and expertise includes: 3D printers, materials, software, expert services, and on-demand parts production. The company's India arm has been at the forefront of adoption of 3D printing in manufacturing in Inda. Rajiv Bajaj, Managing Director, India & SEA, Stratasys spoke to Aanand Pandey, Editor, DMI on a range of areas related to the technology, including its various benefits and breakthroughs in manufacturing, healthcare, and education. Edited excerpts.
Additive manufacturing (AM) or 3Dprinting (3DP) is said to be the 4th emerging field of manufacturing after subtractive, forming and casting. In the overall spectrum of manufacturing technologies, were do you see a fit for 3D printing?
It's a pertinent question because a lot of people perceive that one form of manufacturing could possibly limit the other form. For example, there could be a misconception that AM may completely eliminate traditional manufacturing technologies like subtractive, casting or forming. But the best use of any technology and that of AM – in terms of the increasing complexity of products and manufacturing – is to utilize it in conjunction with each of these traditional technologies and the scope of their capabilities. So an intelligent organisation would use AM to complement traditional technologies as per utilization and the various possibilities.
Could you give me an example of how AM could be used to complement conventional manufacturing technologies and/or processes?
Let me give you an example of a Hong Kong-based tool, die, and mould-making company that we worked with. I met their managing director in my early days of joining Stratasys. He recounted that after he deployed additive manufacturing, he started giving samples of parts to customers in the aerospace industry, which the latter found to be a good fit for wind tunnel testing. With the passage of time, customers started to give more orders of such samples. Starting from one, the number of AM-made sample parts increased to 40-50 pieces. The customers would use these sample parts to do wind tunnel analyses as per their parameters, whereupon they would give orders for bulk quantity of the components, to be made through conventional manufacturing process, in numbers running into hundreds to thousands.  So this is one way, where you make the first few samples using AM for testing, and then manufacture the parts using the traditional methods.
To share another example, automotive companies use CNC machines, which are typically used as part of an automated line. When they automate a process, there is a good amount of customization that they can do, where they can use additive manufacturing along with the subtractive machining to give a complete solution to the customer and reduce overall process cycle times significantly. Let's say they are setting up a line that uses automated manufacturing robots. There is a component in the robot systems called the End of Arm Tooling which is used to pick, place or hold certain parts during the process of machining. Additive manufacturing can quickly customize the End of Arm Tooling application, making the entire process highly cost and time efficient.
The level of awareness of 3D Printing (3DP) in India is low. How do you use your position and legacy to promote and increase the use of this technology in India?
Stratasys is a 30-plus year old company and a pioneer in the additive manufacturing industry. We have been present in India for the last 20 years and have invested significantly in a state-of-the-art Experience Centre in Bangalore to showcase our latest technologies to Indian customers. As a domain leader, we collaborate with industry and academia to champion the adoption of 3D printing in India. Working closely with the industry has helped us realise that the industry is looking for trained manpower in 3D Printing – people who could use 3DP from day one for adoption in the organisation. This is one of the areas where our collaboration with the academia helps. We recently tied up with NTTF (National Technical Training Foundation), Bangalore to set up India's first and only certified additive manufacturing training program which will equip students with additive manufacturing skills that can be applied to the industry. Education is a big application area – in addition to the aforesaid academic collaborations, we are in the process of setting up some new Centres of Excellence with leading educational institutes.  This is a specialized program – we will qualify these centres to ensure that the quality of AM certification programs is world class, and therefore limit the number of COEs to one per key geography in India.
Process design is a highly important element of additive manufacturing applications – a 3D printer simplifies the complexities [of the manufacturing process], and practically builds any part with any complex feature. To that goal, students trained in additive manufacturing design are able to bring about much larger benefits to the process and the industry at large.
To give you an example, we worked with Honda cars in India, which was looking to explore the possibilities of deploying 3DP into its manufacturing process. We completely redesigned their inspection jigs and fixtures for additive manufacturing, from metal parts to consolidated plastics assembly. The 3D-printed fixtures were 75-percent lighter [than the original weight], and the manufacturing cost was reduced by 50 – 60 percent!
These are the kinds of paradigm shifts that happen when you bring in the technology and collaborate with customers to expand and explore the possibilities for introducing additive manufacturing to their existing process.  And this is our role as well as responsibility as a technology leader – of bringing the knowhow to the industry.
Today, most of the leading Indian engineering institutes like the NITs (National Institutes of Technology), the IIT (Indian Institutes of Technology) and other top universities are using our industrial 3D printers to bridge the skill gap by training and enabling the students with advanced technologies used by the industry and making them industry ready.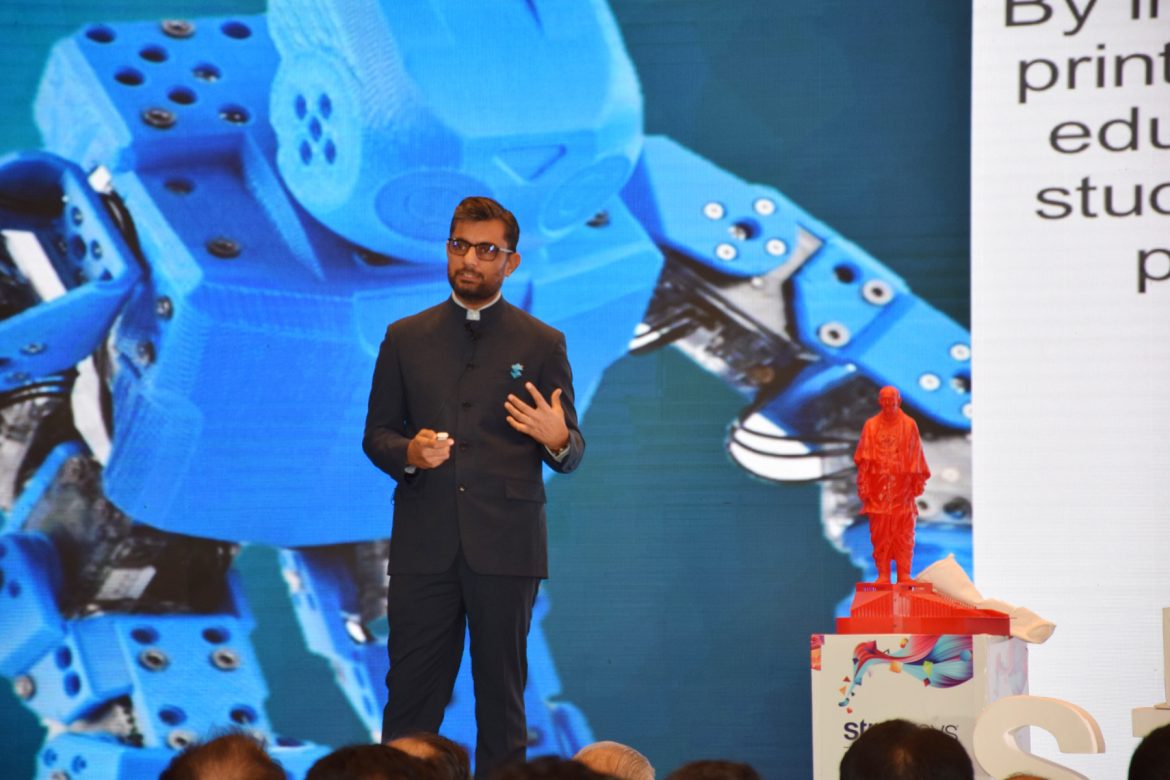 Could you list out the top, say, three industries in India in terms of the current applications and possibilities for the 3DP/AM technology? 
Aerospace and automotive industries have been fast adopters of additive manufacturing, particularly for components which are low in volume but high in design complexity. Of course, prototyping plays a big role, which can be expanded to make jigs, fixtures, tooling and customized features. Global car companies like Daihatsu and BMW use 3DP to manufacture customized parts, for example. So let's say if you buy a car in India and you are given the choice of designing some elements of car such as the design of the car's tail or side lights, then such things can be made with 3DP.
India has a lower adoption level compared to the other part of the [industrialized] world, but there are early adopters in India in sectors beyond aerospace and automotive. We have had successes in the shoe-making industry, in the manufacturing of products as diverse as dental aligners and bicycles and with architecture firms. In fact, the Statue of Unity model was built and analysed for wind-tunnel testing by a company called RWDI using Stratasys technology [The Statue of Unity is a colossal statue of the Iron Man of India, Sardar Vallabhbhai Patel, in Gujarat].
The other big industry for 3DP applications is the medical industry. Surgical planning is a big area where 3DP helps with the simulation of any planned procedure. With new advanced printers which offer a range of materials that mimic tissue matrix, bone, and gel along with millions of colour and transparency options, surgeons are able to create specific morphologies to simulate the surgery on 3D-printed models which are anatomically precise and realistic. These 3D printed models accurately follow a patient's unique anatomy with the help of MRI and CT scans.
I want to share an inspiring success story of a miraculous surgery done by Dr. Harinder Singh Bedi, Chief Consultant Cardio Vascular Endovascular & Thoracic Sciences, Shalby Hospital, Mohali, Punjab. In 2018, a 23-year old man consulted Dr. Bedi for treatment of a mysterious condition that was turning his body blue in colour [termed cyanosis in medical parlance] and was causing shortness of breath. A CT scan revealed a large malformation that connected a pulmonary artery and the vein; a rare condition called AVM (Pulmonary Arteriovenous Malformation) in which the blood bypasses the lungs and is therefore bereft of oxygen when it enters the heart [hence the cyanosis]. Since it was a highly complex and mission-critical operation, Dr. Bedi approached the Manufacturing Research Lab (MRL) of Guru Nanak Dev Engineering College (GNDEC), Ludhiana, which specializes in additive manufacturing activities. The MRL used a Stratasys 3D Printer to make an exact replica of the AVM using its 2D dimensions from the CT scan.
The 3D model helped Dr. Bedi do the surgery in a record time, reducing the surgery duration from expected 4.5 hours to 1.5 hours, that too with minimal loss of blood. [The case study has been published on CTS Net, a reputed global cardiothoracic surgery network platform, and widely hailed as a breakthrough in 3DP-assisted surgeries. – Editor]
So what I gather is that the medical industry is the biggest in terms of the level of adoption and potential, then we have the aerospace and automotive industries…
Yes and no. The aerospace and automotive industries have taken big strides in terms of the adoption of 3D printing. The level of reach in terms of the number of manufacturers could be low globally, but the level of adoption in terms of processes is higher than the other industries. The medical industry in India is a promising domain for adoption of 3D printing. Since the healthcare industry is more cautious than others is adopting any new technology, it is important that the medical students are trained well in advance for them to adopt the new digital healthcare solutions for practice. The integration of medicine and technology in India is only a matter of time now. The world is progressing towards research on printing through human cells and bio printing.  There is a lot of scope for expansion and adoption in terms of saving lives, providing quality healthcare and improving the quality of life. I firmly believe that AM holds great promise for the future of humanity.
The adoption of AM in India is very low compared to, say China and Japan. As per one estimate, India accounts for a total 3 percent of the units installed in the APAC region, whereas China makes for 35 percent and Japan 30 percent. What are the reasons responsible for the low level of adoption of AM in India?
If you take any other cutting edge technology, you will find adoption levels low in India in terms of the market share and size. For example, any leading manufacturer in Europe would have 50 plus 3D printers installed, a Japanese manufacturer will have nearly 25 3D printers, and a similarly ranked Indian manufacturer will have 1 or maximum two. That to me presents an opportunity of expanding the scope of AM into multiple areas and multiple departments within organizations that we work with. That also puts onus on leading technology organizations like ours to showcase the usage and spread its awareness through the academia among the current generation of manufacturers and technologists.
Speaking of awareness, can you cite the major benefits of 3D Printing/Additive Manufacturing which must appeal to the Indian manufacturers, particularly those from the SME sector?
Sure, here are the other main benefits: One, when you are launching any new product, there is lot of investment that goes into designing jigs, fixtures and tooling, both in terms of the lead time and money. When you successfully integrate 3D printing into your existing manufacturing process, you can save anywhere between 40 to 60 percent in terms of time and investment, which can really help in making your product line successful.
Two, there is also a lot of platform utilization that goes on across a production line. Additive manufacturing plays a defining role in making production lines modularfor assembling different models of a product, like a car, wherein only a few parts in the assembly line need to be changed.  To share an example, we worked with a leading bearings manufacturer to identify areas in its conventional manufacturing process where the company needed to replace a few machining parts to make different bearings sizes. We were able to build those parts in a single day as against 10 to 12 days that it normally takes.
Three, rapid prototyping is a great benefit which is already utilized globally. In India, this is a feature that can be used more by manufacturers in industries such as automotive, consumer electronics, mobile phones and even shoes. 3D printing helps cut down the concept-to-production time significantly as you can use 3DP as a bridge to quickly finalise your design and accelerate the production cycle.
In addition, there are many other benefits that emerge when we work jointly with the customer since no two shop floors are completely similar.
There is perception among the customers that the cost of installation of 3D printers, their parts and maintenance are highly expensive. How do you address that perception?
For companies and schools new to 3D printing as well as the established users, Stratasys 3D printers are a game-changing choice, what with the highest levels of plug-and-print reliability and repeatable accuracy they bring to the table. Customers need industrial 3D Printers at an affordable price. When I say industrial 3D printing, it is not about the size of the 3D printer, it's also the predictability, quality and throughput of the printer which it delivers continuously throughout the process.
Stratasys printers are known for quality, reliability, and throughput. Today we have printers like the F120 which are specially made for MSME and SME bringing 3D printers to individuals and small sized teams which support and enhance creativity and innovation. Not only are these 3D printers affordable, they also give the same industry-level output which our bigger printers do. Then we also offer top-of-the-line 3D printers like the Fortus 450 mc or Fortus 900 mc, which most large automotive companies in the country use to streamline manufacturing while maximizing client's capabilities of making large prototypes as well as low-volume parts with agility and accuracy.